Press release
High uptake of the shingles vaccine in the first year of the programme
New figures released today from PHE show there has been a high uptake of the new shingles vaccine during its first year of being launched.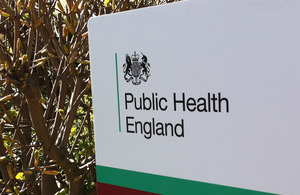 The new vaccination programme, which was launched in September 2013, was offered to adults who were aged 70 and 79 years old on 1 September of that year.
Uptake for the first year of the new programme shows that almost 62% of 70 year olds and almost 60% of 79 year olds received the shingles vaccine. Most of those received the vaccine during the first few months of the programme, during the seasonal influenza vaccination campaign.
Shingles can be a debilitating illness and is caused by the reactivation of the same virus that causes chickenpox in children. The risk and severity of shingles increases with age.
Shingles tends to present with a rash which can be very painful and in some individuals, the pain can persist for several months after the rash has disappeared (known as post herpetic neuralgia or PHN). The aim of the vaccination programme is to reduce the risk and severity of shingles in those most likely to be affected by the illness.
Dr Mary Ramsay, PHE's head of immunisation said:
We are very pleased by the number of people who have been vaccinated for shingles during the first year of the programme and we hope that this figure continues to rise over the coming years as the vaccine becomes more established. We congratulate our colleagues in primary care, particularly those practice nurses who have helped to deliver this programme alongside their busy clinics for seasonal flu.

This season, we hope to vaccinate many more older people, and to maintain and improve uptake in order to prevent this debilitating condition amongst older people in England.
The shingles vaccine supply was subject to temporary limitations due to vaccine availability between September and December last year but these problems have been fully resolved and the supply problem has not impacted on the overall programme. This is an annual programme and this year, eligible patients who were aged 70, 78 and 79 years old on 1 September 2014 onwards still have until 31 August 2015 to be vaccinated.
Ends
Notes to editors
Public Health England exists to protect and improve the nation's health and wellbeing, and reduce health inequalities. It does this through world-class science, knowledge and intelligence, advocacy, partnerships and the delivery of specialist public health services. PHE is an operationally autonomous executive agency of the Department of Health. Website: www.gov.uk/phe. Twitter: @PHE_uk, Facebook: www.facebook.com/PublicHealthEngland
Published 4 December 2014