High street could be boosted by £212 billion 'purple pound' by attracting disabled people and their families
Thousands of high street businesses could be turning away the custom of 1 in 5 people by not attracting disabled people.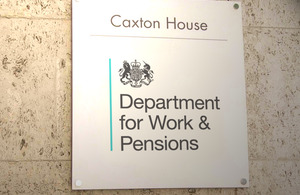 Thousands of high street businesses could effectively be turning away the custom of 1 in 5 people by not attracting disabled people, the Minister for Disabled People Mark Harper said today (27 August 2014).
Research from the Department for Work and Pensions (DWP) has shown disabled people find shopping the most difficult experience for accessibility, followed by going to the cinema, theatre and concerts. Drinking and eating out at pubs and restaurants was third on the list.
It coincides with the release of a new 'purple pound' figure from DWP showing that households with a disabled person have a combined income of £212 billion after housing costs.
Minister for Disabled People Mark Harper said:
We want businesses up and down our high streets to realise they're excluding more than 12 million customers and their families if they fail to cater for disabled people. That's the equivalent to the populations of London, Birmingham, Leeds, Sheffield, Cardiff and Manchester combined.

It's not just about fairness, it makes good business sense to be accessible.
The Minister has written to more than 200 of Britain's biggest businesses and more than 80 trade organisations with a combined 420,000 members, as part of the Accessible Britain Challenge – a call to communities to be more accessible to disabled people and their families.
Businesses are required by law to make reasonable adjustments for disabled people. There are many easy and low-cost ways to improve accessibility including:
clearing clutter from corridors and aisles
printing menus, leaflets and brochures in at least 12 point font, 14 point is ideal and being prepared to do larger print if requested
training staff so they are confident in offering assistance when requested, for example, reading a menu out loud or writing down a price
provide parking for disabled customers or make sure staff know where the nearest parking is located
Mark Harper will be visiting the Timber Lodge café at Queen Elizabeth Olympic Park today (Wednesday 27 August) which won the Selwyn Goldsmith Civic Trust Award for inclusive design. The visit marks 2 years since the Paralympics in 2012.
Dennis Hone, Chief Executive of the London Legacy Development Corporation, said:
The 2012 Paralympics were fantastically successful and changed perceptions of disability forever. I am committed to honouring that legacy and ensuring that Queen Elizabeth Olympic Park really is the park for everyone.

We've worked hard with local disabled people to create accessible parklands and venues which can be enjoyed by all of our visitors, and we are proud to host events which celebrate accessibility such as National Paralympic Day on Saturday 30 August.
National Paralympic Day on Saturday 30 August is now in its second year and will be celebrated at Queen Elizabeth Olympic Park with the first international swimming competition to take place in the London Aquatics Centre since the London 2012 Paralympic Games.
More information
The data for the £212 billion calculation was sourced from the Family Resources Survey (FRS) and Households Below Average Income (HBAI). The latest available data is 2012/13. Annual net (disposable) income has been summed across all households containing an adult or child who is disabled, as classified under the FRS definition of disability. In the FRS, a person is defined as being disabled if they have a long-standing illness, disability or impairment which causes substantial difficulty with day-to-day activities a little or a lot. The income measure used is annual net (disposable) household income. This comprises total income from all sources of all household members including dependents. A household is defined as 1 person living alone or a group of people (not necessarily related) living at the same address who share cooking facilities and share a living room or sitting room or dining area.
The previous figure of £80 billion that was released in 2004 was based on individual data rather than households and therefore it is not possible to compare the two figures.
There are 12.2 million disabled people in the UK. This figure is taken from the 2012/13 Family Resources Survey (FRS).
The Accessible Britain Challenge aims to motivate communities including local businesses, employers, service providers and community groups to do more to be inclusive and accessible by engaging and working with disabled people to remove barriers that get in the way of them being full and active participants in their community.
The Opinions and Lifestyle Survey asked 1,240 disabled people which goods and services they found difficult to access in 2013. 29% of those surveyed said shopping, 22% said going to the cinema, theatre or concerts and 19% said going to pubs and restaurants.
The Queen Elizabeth Olympic Park has been designed, with the help of disabled people, to be as accessible and inclusive as possible. The Park offers step-free access, hard-standing surfaces, regular seating and accessible Blue Badge car parking for each of the venues. The venues have been designed to offer high levels of accessibility with facilities provided across the Park including;
accessible and Changing Places toilets
accessible changing facilities
accessible baby change
induction loops
audio assistive systems
The government is committed to high streets as part of its long-term economic plan. It is supporting local shops and businesses with a billion pound package of investment that includes targeted business rate discounts, sensible planning changes and action that reins in over-zealous parking practices.
Contact Press Office
Contact number for this press release – 0203 267 5112
Press Office
Caxton House
Tothill Street
London
SW1H 9NA
London Press Office (national media and London area enquiries only – not questions about personal claims) 020 3267 5144
Out-of-hours (journalists only) 07623 928 975
England and Wales (local media enquiries) 029 20 586 then 097 or 098 or 099
Scotland (local media enquiries) 0131 310 1122
Follow DWP on:
Published 27 August 2014