Heritage Minister John Penrose lists Guards' Chapel at former Chelsea Barracks following Review
Minister for Tourism and Heritage John Penrose has listed, at Grade II, the chapel at the former Chelsea Barracks in London.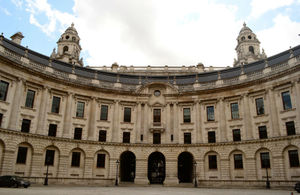 This is following requests to review an earlier decision - made in 2009 by the then minister - not to list it. 
The Minister's decision, on the basis of advice from English Heritage, recognises new evidence that was not considered previously - specifically the architectural and historic interest of four Victorian tile memorial panels.  These commemorate guards of 'Other Ranks' who were stationed and died at the barracks between 1885 and 1888.
John Penrose said: "This is a good example of a 19th century barracks chapel, which is all the more important in heritage terms because of the unusual and elegantly designed memorial panels.  The significance of these panels was not taken account of when this building last came before the minister two years ago and I am pleased now to be able to put this right.
"Listing does not, of course, guarantee that the building will be preserved for all time, but it does offer extra protection for it against inappropriate alteration or redevelopment in the future."
Delcia Keate, English Heritage's Senior Designation Advisor said: "We are delighted the Minister has endorsed our advice and listed this special building.  The chapel is valuable as the last remaining building from a prestigious inner London barracks, and offers a tangible reminder of the military presence in Chelsea. Victorian barracks chapels do not survive in high numbers nationally, and there are especially few examples left in London.  Inside, there are a series of remarkable tiled panels commemorating private Guardsmen who died between 1885-8.  Memorials to named private soldiers were uncommon in the late-nineteenth century, and these show how the most junior ranks in the Victorian Army were gradually being accorded the respect of remembrance."
Notes to Editors
Press Enquiries: 020 7211 2210
Out of hours telephone pager no: 07699 751153
Public Enquiries: 020 7211 6000
Published 30 March 2011