Heritage Minister John Penrose lists former Strand Union Workhouse
The 18th century former Strand Union Workhouse in London has been listed Grade II by the Minister for Heritage and Tourism, John Penrose.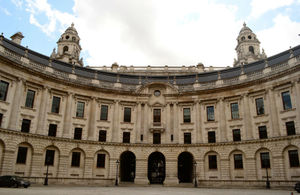 This means that the building's special architectural and historic interest must be taken account of in any future plans to alter or redevelop it.
The Covent Garden Workhouse, as it was originally known, was completed by 1778, becoming the workhouse of The Strand Poor Law union in 1836, before becoming an infirmary in the late 19th century.  Until recently it was the outpatients department of the Middlesex Hospital.  It is thought to be the best preserved of the three surviving 18th century workhouses in London. 
 
John Penrose said: "This austere and imposing building is an eloquent reminder of one of the grimmer aspects of London's 18th century social history.   Some claim that it was the inspiration for the workhouse in Charles Dickens' Oliver Twist, but whether it was or it wasn't, we know that it is the sole survivor of the workhouses that were operating in the capital when Dickens wrote his famous novel, and that as a young man he had lived just nine doors along from it. 
"It is undoubtedly an important and interesting part of our history and heritage, and deserves the extra protection that listing provides."  
 Delcia Keate, Senior Designation Advisor at English Heritage said: "We are delighted that the Minister has agreed with our advice to list this important building. As well as the possible Dickens connection, today's listing recognises the indisputable association between the former Strand Union Workhouse and a major figure in 19th century workhouse reform, Dr Joseph Rogers. Rogers' direct experience, as Chief Medical Officer, of the appalling conditions there, launched him into the vanguard of reform of healthcare provision for the poor, a significant step towards the socialisation of medical care in Britain."
  Press Enquiries: 020 7211 2210
Out of hours telephone pager no: 07699 751153
Public Enquiries: 020 7211 6000
Published 14 March 2011