Press release
Have your cake and eat it: Minister sets record straight on street parties
More people across the UK will be able to organise street parties, charity fundraisers and get-togethers without the fear of 'red-tape'.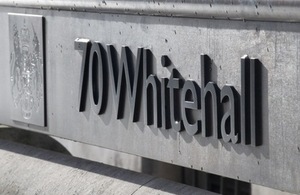 An interactive guide to organising community events, published by the Cabinet Office, will dispel a raft of inaccurate myths leading, it is hoped, to a surge in community events over the coming year.
Despite the success of community-led events around the Olympics and Jubilee, research by the Department for Business, Innovation and Skills found that existing guidance lacked clarity and focused too much on what organisers could not do when organising charity fund-raisers, street parties or school fetes.
The 'Focus on Enforcement Review of Volunteer Events' research, found that concerns about food hygiene certificates, entertainment licences and insurance costs were rife.
As a result, the 'Can Do' guidance was established, with the input of a raft of local community organisations, and it sets out in plain English that most of these concerns are completely unwarranted.
Minister for Civil Society Nick Hurd said:
We all want to build stronger communities. The idea that it is somehow impossible to run an event or throw a street party without getting through masses of red-tape is simply inaccurate. It is sad to think that events that can bring communities together don't happen because of concerns around something as simple as a home baked cake needing a food certificate and this guide busts these myths.
Myths and facts
Myth: I cannot serve tea and coffee in the vicinity of children without a food safety certificate. Fact: You are not banned from sensibly serving hot drinks around children.
Myth: I need a special certificate to sell homemade cakes at school fetes. Fact: You do not need a certificate to sell homemade cakes.
Myth: I have to pay for local road closures: Fact: You can ask your local authority to justify any charge and often there is no charge.
Myth: I need public liability insurance for running events. Fact: You are not required by law and signing a disclaimer can be adequate.
Myth: I need a licence to run a bingo or a race night. Fact: You do not need this as long as your event is for "good causes".
Myth: I need a licence for live music: Fact: You do not generally need a licence for most local events which include music between 8am and 11pm.
Myth: If there is alcohol at my event I need a special licence. Fact: You don't need a licence unless alcohol is being sold.
Michael Fallon, Minister for Business and Enterprise, said;
Nobody should be discouraged from participating in the life of their community by needless bureaucracy. This new, clear and concise guidance responds directly to issues and concerns raised by the public. It is an important part of the government's drive to cut red tape and promote individual freedom, enterprise and responsibility.
Minister for Communities Stephen Williams said:
Street parties are a great British tradition in celebrating events from royal jubilees to local children's birthdays, and an excellent way of getting neighbours and people of all different backgrounds out to meet each other. I want to keep this tradition alive and well, and with the simplified guidance published today the government is showing how easy it is to set up a local event.
Stephen Peck, operations director of the Scout Association, said:
Everyone benefits if people organising community events to raise money for good causes know that the government wants to work with them, not put obstacles in their way.
Local authorities will receive a letter from Minister for Civil Society Nick Hurd and Communities Minster Stephen Williams, introducing the new guidelines.
Published 18 January 2014