Press release
Hajj Consular Delegation accompanies British pilgrims
UK Hajj Consular Delegation: Effective preparation will ensure a safe and trouble-free Hajj.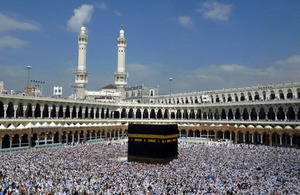 The 15th Hajj Consular Delegation to accompany British pilgrims to Saudi Arabia has been launched today by Senior Minister of State Baroness Warsi and Minister for Consular Services Mark Simmonds.
This is the 15th year for the Hajj Consular Delegation, which has now provided consular support to around 250,000 - 300,000 British Hajjis.
Senior Minister of State Baroness Warsi said:
The Foreign and Commonwealth Office understands how deeply important the Hajj is to the British Muslim community and once again we are sending a Hajj Consular Delegation. Saudi Arabia provides excellent facilities and services to all pilgrims and I would like to thank Saudi Arabia for everything it does for British Pilgrims on Hajj.
Foreign Office Minister responsible for Consular Services, Mark Simmonds, continued:
We are absolutely committed to providing appropriate Consular services to British Pilgrims during Hajj through having consular officers on the ground in Makkah and Jeddah. Last year we provided a wide range of consular support, including replacing emergency travel documentation and supporting British pilgrims who required urgent medical assistance.

Effective preparation by pilgrims – such as ensuring they have appropriate travel insurance and carry copies of their passports and other important documentation – is key to ensuring a safe and trouble-free Hajj. I hope that all those undertaking Hajj this year will have a peaceful, successful and rewarding pilgrimage.
Pilgrims to Hajj should visit the FCO website for travel advice and 2013 Hajj information leaflets.
British Hajj Consular Delegation 2013
This year's Hajj is expected to take place from 13-18 October. Approximately 19,000 British Muslims are expected to participate. The British Hajj Delegation has been based in Makkah every year since 1999.
Our focus remains providing appropriate support to those in need. Last year the consular delegation provided a wide range of support to British pilgrims. This included:
Providing emergency travel documentation to replace lost or stolen passports;
Support to hospitalised pilgrims;
Making the necessary logistical and bureaucratic arrangements for bereaved families in the event of a death; and
Giving British pilgrims who were the victims of unscrupulous tour operators advice on how to file complaints and assisting in referring these cases to the Ministry of Hajj.
The FCO will provide 24 hr telephone support for British pilgrims (Saudi number: 00966 501 004 268).
Further information
Read the FCO travel advice for Saudi Arabia
Visit the UK and Saudi Arabia website pages
Follow FCO travel advice on twitter @FCOtravel and on facebook
Follow Foreign Office Minister Baroness Warsi on twitter @SayeedaWarsi
Follow Foreign Office Minister Mark Simmonds on twitter @MarkJSimmonds
Photo credit: MAHMUD HAMS/AFP/Getty Images
Published 8 October 2013