News story
Greening: We must break the cycle of food shortages in Western Africa
Emergency relief for the most vulnerable people in Mali and the West African Sahel region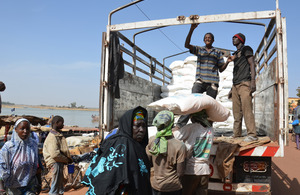 The UK will help to prevent desperate food shortages and make Mali and the West African Sahel more stable and secure, International Development Secretary Justine Greening has announced.
Mali has suffered from years of humanitarian crises, conflict and an evolving terrorist threat. It is firmly in Britain's national security interest to see a stable Sahel and today's announcements will address some of the root causes of instability and help people across the region rebuild their lives.
Britain's new relief package will help at least 350,000 people in the one of the poorest and most unstable regions to withstand future shortages by giving them the chance to grow their own crops, rear livestock and help them trade.
The support will also provide emergency relief to people who have fled their towns and villages in the recent conflict in Mali.
Speaking in Brussels at an international conference on the relief efforts in the region, Justine Greening said:
"Britain's support has been a lifeline to many over the past year, but it makes sense to work out how to prevent future shortages and help the region to become more stable. It is also firmly in the UK's national interest.
"The international community needs to work together to provide the long-term approach the region needs to avoid falling back into crisis."
Working over 3 years, the UK's £128 million package will include:
healthcare, nutritional food, clean water, sanitation, education and a more reliable food supply for 270,000 people across five countries in Sahel

emergency healthcare, medicine and food for refugees and people forced from their homes in Niger and Mali. Working through the International Committee of the Red Cross, the UK will also provide seeds, tools and livestock support for families to restart their livelihoods

helping families across the Sahel region to be more resilient to future disasters, droughts or floods and help them protect or recover their livelihoods. Working with a range of aid agencies, Britain will ensure that thousands of people and their families can cope better with future shocks, develop new and sustainable sources of food and income, such as rearing new livestock, growing new crops and giving them the opportunity to trade and buy food from markets.

safe and secure travel for 1,500 aid workers in Niger, Mauritania and Chad to ensure aid reaches where it is needed most.
The UN estimate that over 10 million people will be at risk of food shortages across the Sahel in 2013 and that over 1.4 million children will require medical treatment for severe acute malnutrition.
Weak governance also provides the conditions in which violent extremism can flourish, which is why serious, long-term dialogue and reconciliation must take place in Mali.
Despite the scale of the crisis, the UN's own appeal for humanitarian aid in the Sahel has only received £299 million in support – or 27% of the funds it needs to deal with crisis on the ground. Without further support, UN agencies may be forced to scale back their relief efforts. Britain's new aid package will work with a range of UN and aid agencies to ensure that the poorest have the support they need.
Published 15 May 2013