Green bridges: safer travel for wildlife
Natural England reports that bridges built across roads and railways to allow wildlife movement can stop species from becoming isolated and reduce the number of traffic accidents.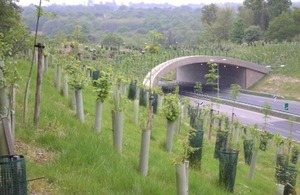 The bridges are known as green bridges, landscape bridges or wildlife overpasses and are usually planted with a variety of local trees or shrubs and other vegetation. They allow birds, mammals and insects to keep moving despite a road or railway blocking their path.
Green bridges are common in Europe and North America, but only a few have been built in Britain.
The report: "Green Bridges – a literature review" was undertaken by Land Use Consultants on behalf of Natural England. It looks at scientific evidence from 56 examples across the world, ranging from the Mile End green bridge in east London to the Compton Road faunal overpass in Brisbane, Australia.
It is the first worldwide study of green bridges and has found that they could become an important part of the sustainability of future transport projects by:
creating a safe crossing point for wildlife movement
joining up habitats and connecting colonies, as they are also used by wildlife as a home in their own right
creating a crossing point for people and benefit pollinators
integrating roads and railways into the surrounding landscape
As the government's conservation agency, Natural England's role is to make sure that the natural environment is conserved, enhanced and managed for the benefit of present and future generations. It gives advice on environmental impacts to planning authorities and developers to promote sustainable development.
The information contained in the review will help developers and planners involved in major infrastructure projects to factor new green bridges into their construction plans or consider converting existing bridges to green bridges.
Clare Warburton, Natural England's Senior Transport Specialist, said:
People often think of roads and railways as cutting a swathe through important wildlife habitat but this study shows that green bridges can significantly reduce their environmental impact. Not only can green bridges provide an important connection between wildlife colonies, they can also provide a home for wildlife in their own right.

By giving wildlife a clear route across major roads, green bridges also increase safety for roads users and animals alike. If sensitively designed to accommodate wildlife and people, they can also provide attractive routes that help local communities access the wider countryside. I hope the evidence in this review will help those planning transport projects to decide how and when to use green bridges both in England and beyond.
Sheena Crombie, Senior Ecological Advisor at Highways England, said:
Highways England recognises that roads may prevent effective movement for some species around the wider countryside, contributing to habitat fragmentation. Over the years it has investigated the possibility of providing green bridges at key localities but has found two significant problems when considering their construction. One has been a lack of knowledge on how the structures work and function, and secondly the high cost for what were unproven benefits. This document will help to give a better understanding on both these issues, providing clear guidance on the design of green bridges to designers and planners working to improve and enhance the environmental performance of the Strategic Road Network. The publication will add to the knowledge base for civil engineers and the ecological community.
Examples of green bridges
England
The UK currently has a small number of green bridges. One of the most celebrated spans the A21 at Scotney Castle in Kent in the High Weald Area of Natural Beauty (AONB). Completed in 2005 as part of a dual carriageway by-pass for Lamberhurst, it enabled the historic drive to the castle to be preserved, reduced the impact on local landscape and was soon being used by dormice.
In London, a green bridge was built to overcome the fragmentation of Mile End Park by a number of roads and railway lines. Spanning five lanes of the A11, the Mile End green bridge is 25m wide with landscaped parkland. Rainwater runs off the bridge into tanks on either side and is then recycled to maintain the water content of the soil.
Europe
Green bridges were pioneered in the Netherlands, where at least 47 ecoducts as they are known have been constructed since the first in 1988. One of the earliest ecoducts was the Terlet overpass which is planted with trees. Within six years three species of deer were recorded using it, along with wild boar, red fox, badger, wood mice, common shrew and common vole.
Groene Woud ecoduct, also in the Netherlands, has a chain of small pools across the overpass and its access ramps for amphibians. Common toad, common frog, marsh frog, edible frog, smooth newt and great crested newt were all found on the ecoduct.
An overpass in Sweden enabled roe deer and moose populations to move around without having to cross the road. Allied to the construction of roadside fences, the overpass led to a 70% reduction in accidents caused by roe deer.
Trans-Atlantic
Further afield, two green bridges over the Trans Canadian Highway in Banff have allowed sufficient movement of bears to prevent genetic isolation. In Brisbane, the Compton Road faunal overpass closely resembles the dense, surrounding eucalyptus forest and is remarkably similar in species richness.
A study found that twice as many species of bird were flying over the bridge as were flying over the road.
See: Green Bridges – a literature review undertaken by Land Use Consultants on behalf of Natural England.
Published 31 July 2015