Greater Cambridge City Deal signed
A deal that could see a £1 billion investment in the Greater Cambridge area is signed by central government and local representatives.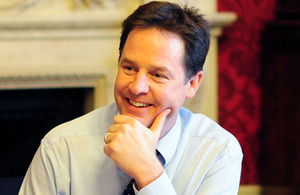 The deal was signed by representatives from central government, council leaders, businesses and the University of Cambridge on Thursday 19 June.
The signing is the latest step in securing potentially hundreds of millions of pounds of extra money that will be invested in improving transport and housing in the Cambridge and South Cambridgeshire area.
The game changing deal was announced by the Chancellor of the Exchequer in his budget speech this year and follows intensive negotiation with Cambridge City Council, South Cambridgeshire District Council, Cambridgeshire County Council, The University of Cambridge and the Greater Cambridge Greater Peterborough Enterprise Partnership.
The deal will secure hundreds of millions of pounds of additional funding for investment in transport infrastructure to support high quality economic and housing growth over the coming decades. According to local business leaders one of the main barriers to economic success is lack of housing or transport measures. The first £100 million of funding will be made available in the 5 years from April 2015. Transport improvements as a result of the deal will start to be seen within the first year of this period.
If Greater Cambridge is successful in proving these investments drive economic growth, another £200 million will be available from April 2020 onwards and a final £200 million from April 2025 onwards. Local partners will invest a further £500 million so that around £1 billion will be spent on supporting the delivery of vital infrastructure necessary to provide good quality and sustainable growth for the area for decades to come.
The deal will accelerate delivery of 33,480 planned homes and enable the delivery of an extra 1,000 new homes – creating more homes for families across the region and allowing people to live and be able to afford homes within a reasonable commuting distance.
The deal will also help local young people develop the skills they need to take advantage of these new opportunities: the City Deal will deliver over 400 new apprenticeships for young people and create new teams to help increase apprenticeships by acting as brokers between training providers and businesses, as well as supporting the guidance that is given in schools and colleges to encourage young people to take up vocational careers.
The partners have come together, crossing political and geographical divides, with government to deliver this innovative deal to secure the economic success of Cambridgeshire and the communities they serve.
The Rt Hon Greg Clark MP, Minister for Cities signed the deal in Cambridge at high-tech company Featurespace. The signing also included the leaders from all 3 councils; Councillor Steve Count of Cambridgeshire County Council, Councillor Lewis Herbert of Cambridge City Council and Councillor Ray Manning of South Cambridgeshire District Council. As well as representatives from the local enterprise partnerships (LEP) and University, Julian Huppert MP and Andrew Lansley MP also attended.
Greg Clark said:
Cambridge is one of Britain's most successful cities and the government is backing that success. The Greater Cambridge City Deal is a massive £1 billion boost to the local economy, making sure Cambridge has the transport, housing and skills to continue its phenomenal success.
In addition to funding for transport, the deal would see the 3 councils (Cambridge City, South Cambridgeshire District and Cambridgeshire County Council) pooling some of their own separate funding and powers, and working even more closely than now. New ways of making decisions on transport strategy and planning will also be introduced potentially through what is termed a Combined Authority. This will see the 3 councils working even more closely together to allow for the creation of a single strategic vision for the future of the area covered by Cambridge City and South Cambridgeshire. This requires a legislative change enacted by Parliament to allow the partners to create a combined authority to plan and deliver new housing and transport on a genuinely joined up basis.
Councillor Steve Count, Leader of Cambridgeshire County Council, said:
This is a real game changing deal for Greater Cambridge and the surrounding county. It will see a step change in transport infrastructure, create jobs and boost the local economy. The success of this will also be felt outside the Cambridge area so all our communities benefit.
Councillor Lewis Herbert, Leader of Cambridge City Council, said:
We cannot risk transport in Cambridge grinding to a standstill given the damage that would cause to the lives of local people, and to the firms behind our growing local economy. Signing this deal signals our intention as the new administration at the City Council to play our full part in joint work by the 3 councils to unlock housing, transport and skills investment and improve the quality of life for everyone in and around Cambridge.
Councillor Ray Manning, Leader of South Cambridgeshire District Council, said:
The deal marks a new era for the area. It will unlock millions of pounds of funding to help us tackle the transport problems we face. This is the key factor to ensuring our economy continues to thrive and even more new jobs can be created. Signing the deal also marks the start of further hard graft with us and our partners. We will now be developing transport schemes which can both be delivered quickly and which will see benefits for our residents and businesses straight away.
Mark Reeve, Chairman of the Greater Cambridge Greater Peterborough Enterprise Partnership, said:
Improved transport infrastructure and increased housing supply are vital to ensure future business growth. Signing the City Deal means we can start to deliver real benefits for the local area, providing the support it needs to enable economic growth both now and in the future. This is a great start, but from a LEP perspective we continue to work hard to ensure that our Strategic Economic Plan is as advantageous for the whole of our area.
Sir Leszek Borysiewicz, Vice-Chancellor of the University of Cambridge, said:
This is great news for Cambridge. We look forward to working with our partners to deliver housing and transport improvements that will help us to innovate and sustain economic growth, while protecting the features that make Cambridge such an attractive place to work, study and live.
Published 20 June 2014