News story
GREAT Week Malaysia & Singapore 2014: OBNI
British Malaysian Chamber of Commerce highlight advantages of Overseas Business Network Initiative to GREAT Week business delegates.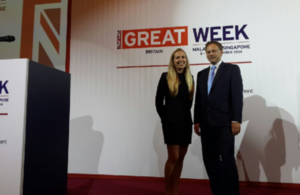 GREAT Week Malaysia and Singapore 2014 was formally launched by The Rt. Hon. Grant Shapps MP on Monday 8 September to an audience of over 250 British and Malaysian delegates from the retail, food & drink and experience economy sectors.
Danielle Horsnell, Business Development Executive for the British Malaysian Chamber of Commerce (BMCC) spoke eloquently to business representatives about how the Overseas Business Network Initiative (OBNI) helps to grow British businesses. Delegates heard how the BMCC offers B2B Support Services to SMEs to provide a soft landing for UK firms - offering guidance on the legal and regulatory environment, advice on overcoming cultural boundaries as well as facilitated business matching and risk management.
Minister Shapps subsequently met with BMCC board members for a private lunch on Tuesday 9 September specifically to discuss OBNI progress in Malaysia.
Further information on OBNI in Malaysia can be found on the British Malaysian Chamber of Commerce website.
Published 11 September 2014