Press release
Government unveils £14.3 billion of savings for 2013 to 2014
The Efficiency and Reform Group has supported departments in saving £14.3 billion against a 2009 to 2010 baseline.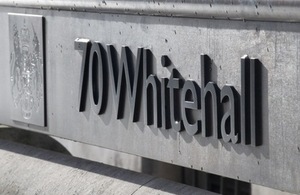 The government's programme of Efficiency and Reform helped save hard-working taxpayers £14.3 billion in 2013 to 2014, against a 2009 to 2010 baseline, Chancellor of the Exchequer, George Osborne and Minister for the Cabinet Office, Francis Maude announced today.
These unprecedented savings have been delivered by departments across government and coordinated by the Efficiency and Reform Group (ERG), established after the 2010 general election. The group, which works with government departments to make savings and address wasteful spend, is a joint Cabinet Office and HM Treasury initiative led by the Minister for the Cabinet Office, Francis Maude.
The £14.3 billion saved is equivalent to nearly £850 for each working household across Britain – that's enough to fund over half a million nurses or pay for more than 3 million primary school places. These savings follow £10 billion saved with ERG for 2012 to 2013, £5.5 billion in 2011 to 2012 and £3.75 billion in 2010 to 2011 – all measured against a 2009 to 2010 baseline; some are recurring costs and some are one-off.
Watch video on 2013 to 2014 end of year savings.
Right across government there is a determination to make every taxpayer penny count. For example, ERG is working to help departments reduce reliance on expensive consultants and to make savings on everyday items such as printer cartridges, paper and computers used in schools, hospitals and other government buildings.
Savings have been found in the following ways:
Commercial
£5.4 billion has been saved by improving government's commercial contracts, including a radical overhaul of central government procurement through the new Crown Commercial Service which strengthens the government's business-like approach to how it buys goods and services.
Digital
Over £200 million has been saved by improving government's digital services and moving more services online, ensuring that citizens' experience is simpler, clearer and faster. The government has also radically overhauled technology spend to get the best possible value for money. For example, £62 million was saved by bringing Directgov and BusinessLink websites onto GOV.UK.
Property
£0.6 billion has been saved through selling empty buildings and exiting expensive rentals in sought-after locations. More government departments are now sharing office space. An example is One Horseguard's Road which now houses the majority of HM Treasury, the Department of Culture Media and Sport, the Northern Ireland Office, and parts of the Cabinet Office which has vacated other buildings.
Projects
£3.3 billion has been saved by tackling waste and inefficiency through large scale projects. For example the Highways Agency Major Roads programme has saved nearly £380 million across schemes, including smart motorway projects.
Workforce reform
£4.7 billion has been saved by reducing the size of the civil service, now down 16% since 2010, and reforming civil service pensions.
Chancellor of the Exchequer, George Osborne, said:
Tackling waste and inefficiency across government is a key part of our long term economic plan. These savings have helped protect front line services and get our public finances back onto a sound footing.

There is more to do. But today's announcement shows that we deliver on the savings we set out to make, so that the taxes of hardworking people are spent on what matters most.
The Minister for the Cabinet Office, Francis Maude, said:
Eliminating waste and cutting the deficit is a key part of this government's long-term plan for the economy. This is about backing hard-working people by spending taxpayers' money responsibly, keeping mortgage rates down so people have more financial security and building a better future for our country.

For 2013 to 2014 we have saved taxpayers an unprecedented £14.3 billion against a 2009 to 2010 baseline – that's nearly £850 for every working household across Britain.

I'm proud of what we have done but we know there's so much more to do.
The Government's Chief Operating Officer, Stephen Kelly, said:
Government buying power has a powerful role to play in supporting growth in the economy and our commercial reform programme is ensuring we're getting better services at better prices.
Notes to editors
These savings figures are not national or official statistics; they are management information evidenced, normally, by department reports. They have been assured by our internal auditors. These independent auditors report to the Audit Committee, chaired by an independent Non-Executive Director, not to a politician or to an official. They performed a full audit of our full year figures at the year end. We have invited verification from the National Audit Ofice who will publish a report on this work shortly.
These savings are mainly driven by controls applied by the Cabinet Office's Efficiency and Reform Group (ERG), which cut expenditure by departments on commercial contracts, IT, property, marketing, temporary staff and consultancy.
The government has also made other types of savings that have not been included in the headline figure. These include £1.1 billion workforce savings by constraining wage inflation; nearly £250 million savings from rail network repair.
The Efficiency and Reform Group reports to Minister for the Cabinet Office and Paymaster General, Francis Maude, and is overseen by an Efficiency Board chaired jointly by Francis Maude and the Chief Secretary to the Treasury, Danny Alexander.
Chancellor of the Exchequer George Osborne and the Minister for the Cabinet Office, Francis Maude are hosting an event this morning to announce this year's savings figures. Follow the updates on Twitter from 9:15am using #GovSavings
Technical note
Savings numbers quoted are not official statistics or national statistics, but internal performance information prepared on a management basis, in accordance with methodologies summarised in the related technical note.
The savings release cash to be recycled within department budgets, to protect frontline services by reducing low value and wasteful activity. They do not usually represent direct funds returned to HM Treasury. They are claimed as 'cash-releasing savings' (or 'folding cash' savings). These figures do not intend to correspond to economic definitions of pure 'efficiency savings' which preclude a reduction in outputs, because in some cases low value or wasteful outputs are reduced.
Savings figures quoted are calculated on an in-year cash basis. They are usually relative to a 2009 to 2010 baseline, in pure cash (ie without a counterfactual) and net of delivery costs. The precise application of these principles can vary.
Cabinet Office has sought to avoid setting up an 'industry in measurement', but instead to use simple methods of counting that provide the best practical assessment with integrity and without seeking to duplicate detail management accounts. Where overlap exists between savings areas (eg between major project savings and savings arising from renegotiation of contracts) these are eliminated before publication. Savings figures are based in the best available information, normally reports from departments or suppliers. Where appropriate, reports are agreed by senior officials.
This technical note summarises the quality of the savings figures. A full and detailed disclosure can be found in our published End of year savings 2013 to 2014: technical note that sets out the calculation methods used to describe each the savings.
Published 10 June 2014
Last updated 10 June 2014
+ show all updates
Added video summarising end of year savings.
First published.