Press release
Government to support new legislation to reduce homelessness
The Homelessness Reduction Private Members Bill is to be supported by the government, Communities Secretary Sajid Javid confirmed today.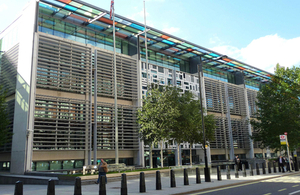 The Homelessness Reduction Bill will significantly reform England's homelessness legislation, ensuring that more people get the help they need to prevent them from becoming homelessness in the first place.
This builds on the government's commitment in December 2015 to consider all options, including legislation, to prevent homelessness.
Communities Secretary Sajid Javid said:
No one should have to sleep rough on the streets. We want to build a country that works for everyone, not just the privileged few. That's why we are determined to do all we can to help those who lose their homes and provide them with the support they need to get their lives back on track.
This government is therefore, very pleased to support Bob Blackman MP's Private Members Bill, with its ambitious measures to help reduce homelessness.
The government's support for the bill comes just a week after it confirmed £40 million to provide innovative approaches to tackle and prevent homelessness. The government has invested £500 million since 2010 which has helped to prevent or relieve over one million cases of homelessness.
The Homelessness Reduction Bill has been introduced to Parliament by Bob Blackman MP. It requires local authorities to provide new homelessness services to all those affected, not just those who are protected under existing legislation.
It places a duty on local authorities to help eligible people at risk of homelessness to secure accommodation, 56 days before they are threatened with homelessness, and to provide those who find themselves homeless with support for a further period of 56 days to help to secure accommodation. The bill will also ensure that other local services refer those either homeless or at risk of being homeless to local authority housing teams.
Welcoming the government's support for his bill Bob Blackman MP said:
I welcome the government's decision to support my bill to reduce homelessness. Throughout my 24 years in local government prior to becoming an MP, I saw the devastation that can be caused by homelessness first hand, with too many people simply slipping through the net under the current arrangements.
By backing this bill, the government is demonstrating its commitment to an agenda of social justice and also shows that it is willing to listen. I look forward to working with Ministers going forward in order to bring about this important change in legislation.
Local Government Minister Marcus Jones MP gave his full support to the bill saying:
I am very pleased to support this bill, which gives the government an opportunity to build on the work I have been doing with homelessness charities through the Homelessness Working Group. I am looking forward to working with Bob Blackman throughout the bill's passage, and with local authorities to make a success of this landmark reform.
The draft bill underwent scrutiny by the Communities and Local Government Select Committee and the government is grateful for its contribution to this important work.
Further information
The number of people found to be homeless is down by 58% from the 2003 to 2004 peak, but the government remains clear that one person without a home is one too many.
The government has protected homelessness prevention funding that goes to local authorities, which will reach £315 million by 2020.
The government has increased funding for homelessness programmes to £139 million over the course of this parliament.
On 17 October 2016 the government announced a £40 million programme to provide an innovative approach to tackling homelessness. This includes:
a new £10 million rough sleeping prevention fund to help individuals who might be struggling to get by from ending up on the street; it will also provide rapid and targeted interventions for new rough sleepers, such as helping them to access employment and education opportunities

also announced were details of £20 million for local authorities to trial new initiatives, responding to the specific needs in their communities and focusing on prevention at an earlier stage; these areas will work with a wider group of at risk people to help families and individuals before they reach crisis point – including through new resident advice services and outreach work with landlords and private sector tenants

a further £10 million Social Impact Bond programme has also been launched to help long-term rough sleepers who may be bouncing chaotically through the housing system – to address underlying issues such as poor mental health or substance abuse to help stop them from living on, and returning to, the streets
The government recognises that homelessness is not just a housing issue, and that for many people complex needs, such as mental health needs, provide a real barrier to improving their life chances. That is why we are working across government, including with the Department of Health, through the Ministerial Working Group on Homelessness.
Background
The Homelessness Reduction Bill makes changes to the current homelessness legislation contained in Part 7 of the Housing Act 1996. It places duties on local authorities to intervene at earlier stages to prevent homelessness in their areas. It requires local authorities to provide new homelessness services to all those affected, not just those who are protected under existing legislation.
The bill was published on Friday 21 October 2016, and will have its Second Reading in the House of Commons on Friday 28 October 2016.
Office address and general enquiries
2 Marsham Street
London
SW1P 4DF
Contact form http://forms.communiti...
General enquiries: please use this number if you are a member of the public 030 3444 0000
Published 24 October 2016