Press release
£40 million homelessness prevention programme announced
Prime Minister and Communities Secretary Sajid Javid announce £40 million homelessness prevention programme.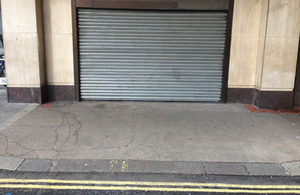 £20 million for local authorities to pilot new initiatives to tackle homelessness in their area
£10 million for targeted support for those at imminent risk of sleeping rough or those new to the streets
£10 million in Social Impact Bonds to help long-term rough sleepers with the most complex needs
A new £40 million programme to provide an innovative approach to tackling homelessness, with prevention at its heart, has been announced by Prime Minister Theresa May and Communities Secretary Sajid Javid.
The Prime Minister has announced a fresh government approach to tackling homelessness by focusing on the underlying issues which can lead to somebody losing their home.
This includes a new £10 million rough sleeping prevention fund to help individuals who might be struggling to get by from ending up on the street. It will also provide rapid and targeted interventions for new rough sleepers, such as helping them to access employment and education opportunities.
The Prime Minister and the Communities Secretary have also announced details of £20 million for local authorities to trial new initiatives, responding to the specific needs in their communities and focusing on prevention at an earlier stage. These areas will work with a wider group of at risk people to help families and individuals before they reach crisis point – including through new resident advice services and outreach work with landlords and private sector tenants.
A further £10 million Social Impact Bond programme has also been launched to help long-term rough sleepers who may be bouncing chaotically through the housing system – to address underlying issues such as poor mental health or substance abuse to help stop them from living on, and returning to, the streets.
This focus on prevention follows the Prime Minister's commitment to fight the burning injustices in our society so that every single person - regardless of their background or circumstances - is given the chance to be all they want to be.
Prime Minister Theresa May said:
I want to build a country that works for everyone, not just the privileged few, based on the values of fairness and opportunity.

That means facing up to the great social injustices in our society and tackling the complex and often stubborn underlying causes which can lead to a person losing their home.

We know there is no single cause of homelessness but I am determined to do more to prevent it happening by supporting those facing challenging issues like domestic abuse, addiction, mental health issues or redundancy, whilst also being prepared to offer a safety net to catch those who might simply be struggling to get by.
Communities Secretary Sajid Javid said:
One person without a home is one too many, which is why we are launching this new £40 million programme to tackle homelessness and prevent it happening in the first place.

It will fund different projects around the country, preventing people from losing their home in the first place and helping to ensure that rough sleepers have somewhere safe to stay.
The strategy unveiled today builds on the government's commitment to preventing homelessness, which includes:
increasing central funding to tackle homelessness over the next 4 years to £139 million
protecting homelessness prevention funding for local authorities at £315 million by 2019 to 2020.
providing £100 million for at least 2,000 low cost accommodation places, for rough sleepers leaving hostel accommodation and domestic abuse victims and their families moving on from refuges
Further information
This will provide £20 million of grant funding across 2016 to 2017, 2017 to 2018 and 2018 to 2019. Local authorities will be invited to bid either singularly, or in collaboration.
This will give local authorities the resources to ramp up prevention and take new approaches to reduce homelessness, including:
collaborating with other services to identify at-risk households, and target interventions well before they are threatened with eviction
helping people earlier than the statutory 28 days when they are threatened with the loss of their home
offering that help to a wider group of people than just those owed the main homelessness duty
testing new, innovative approaches to preventing homelessness to help us build our evidence base on what works and test the effects of these approaches in different areas
DCLG are providing up to £10 million to local authorities over 3 years: 2016 to 2017, 2017 to 2018 and 2018 to 2019.
Through the £10 million Rough Sleeping Grant Funding we will help those new to the streets, or at imminent risk of sleeping rough, by:
reducing the flow of new rough sleepers to the street, through more targeted prevention activity aimed at those at imminent risk of sleeping rough - this will build on the No First Night Out pilot being delivered in the tri-borough of Hackney, Tower Hamlets and City of London

helping new rough sleepers off the street and into independence, through more rapid crisis interventions and support to access and sustain move-on accommodation - this will build on the rollout of the No Second Night Out approach through our Homelessness Transition Fund
DCLG are providing up to £10 million of outcomes funding for locally commissioned Social Impact Bonds. Local authorities will be able to bid for an allocation of the funding to use to commission a Social Impact Bond within a geographic area.
This funding will then be paid out on outcomes achieved by named cohorts of individuals, including outcomes around:
accommodation
employment and education
mental health
substance misuse
Support will be provided for an anticipated 1,500 to 2,000 individuals through 5 to 10 locally commissioned Social Impact Bonds. These individuals will be long-term rough sleepers, or those entrenched within hostels and temporary accommodation, who we know tend to cycle on and off the streets.
Office address and general enquiries
2 Marsham Street
London
SW1P 4DF
Contact form http://forms.communiti...
General enquiries: please use this number if you are a member of the public 030 3444 0000
Published 17 October 2016