Press release
Government to act on Transparency Bill amendments after NCVO meeting
The government will act on amendments to the Transparency Bill after a meeting with the National Council for Voluntary Organisations (NCVO).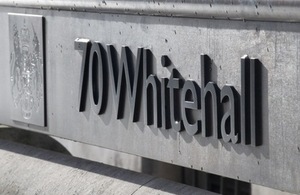 At the second reading, the Leader of the Commons said that the government would listen carefully to the concerns of both the charitable sector and Members of Parliament in respect of specific aspects of the Bill.
It has not been, and is not, the government's intention to change the substantive test of what is expenditure "for electoral purposes", but we have heard concerns being raised.
Under the provisions in the Bill, the government sought to bring in changes that would align the test for third parties with party campaign expenditure.
After discussions with the NCVO and others, and in order to make the point as clear as possible whilst maintaining the reforms to electoral law, we now propose to revert to the situation as set out under existing legislation, which defines controlled expenditure as expenditure "which can reasonably be regarded as intended to promote or procure electoral success".
Andrew Lansley, Leader of the House, said:
I heard what charities and voluntary organisations had to say. While we always were clear that we had no intention of preventing them campaigning on policies and issues as they always have, I wanted the Bill to be as clear as it could possibly be.

So, I am very glad that I have been able to meet the concerns of voluntary organisations, while ensuring that the Bill still regulates effectively when organisations directly try to promote election candidates and parties.
A number of amendments have been tabled. The government intends to respond in a way which meets both the principle and spirit of these. We will work with the relevant select committees and MPs at the next stages of the Bill in the Commons to ensure it can be amended to give this effect.
It is important to reiterate that the Bill will still bring down the national spending limit for third parties, introduce constituency spending limits and extend the definition of controlled expenditure to cover more than just election material, to include rallies, transport and press conferences.
The government has worked with the Chair of the Political and Constitutional Reform committee to draft an amendment which would exempt MPs on the basis of acting in the normal course of their duties as an MP. MPs who break the Code of Conduct and engage in consultant lobbying would still face the same penalties as members of the public.
Following a meeting today with the Leader of the House, Sir Stuart Etherington, Chief Executive of the NCVO said:
I am pleased the government has listened to and significantly met the concerns of charities and community groups. I understand the government's intention was not to make their normal work subject to this regulation. We will work closely with the government and the Political and Constitutional Reform Committee in order to deliver this intention.
Media enquiries
Out of hours 07074 667 000 (please note, this number cannot receive text messages)
Published 6 September 2013