Government sets out strategy for helping young people access education, training and work
Press notice on the government's plans to improve opportunities for young people.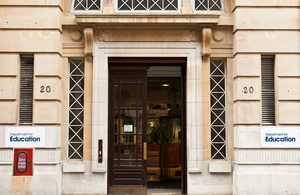 The government has today published plans to increase the participation of 16- to 24-year-olds in education, training and work.
'Building Engagement, Building Futures' sets out the government's strategy to improve the opportunities for young people, so they can succeed in education and training and gain the skills they need to secure an apprenticeship or employment. It includes radical reforms to schools, vocational education, skills and welfare provision.
The majority of young people stay in education and make a positive transition to adult life and the world of work. But recent figures show that 1.16 million young people are not in education, employment or training (NEET). In the current economic climate the government wants to do all it can to help young people, particularly the most vulnerable, develop their skills, gain the right experience and succeed in adult life.
Getting more young people active and engaged in their own learning and development, and subsequently into work,will make a lasting difference to their future prospects, help to raise levels of social mobility, and is central to the government's plans to stimulate economic growth.
'Building Engagement, Building Futures' includes five priorities for action:
Raising attainment in school and beyond to ensure that young people have the skills they need to compete in a global economy.
Helping local partners to provide effective and coordinated services that support all young people, including the most vulnerable, putting us on track to achieve full participation for 16- to 17-year-olds by 2015.
Encouraging and incentivising employers to inspire and recruit young people by offering more high quality apprenticeships and work experience places.
Ensuring that work pays and giving young people the personalised support they need to find it, through Universal Credit, the Work Programme and our Get Britain Working measures.
Putting in place a new Youth Contract worth almost £1 billion over the next three years to help get young people learning or earning before long term damage is done.
The government committed to publishing a participation strategy in 'Opening Doors, Breaking Barriers' - the government's social mobility strategy - published in April 2011 by the deputy prime minister.
In the Plan for Growth, the Chancellor set out how the government will create the conditions for economic growth and recovery. 'Building Engagement, Building Futures' sets out the government's offer for young people to help make sure they can access the education and skills they require to make the most of employment opportunities as the economy picks up.
As part of the priorities for action, the government is:
Providing £4.5 million over the next two years to give more 16- to 19-year-olds access to work experience. The Department for Education is today announcing that 25 colleges in areas with the highest proportion of young people not in education, employment or training will benefit from this funding to test new approaches to work experience. DfE is also working with employers to cut red tape around work experience and has published a new myth-busting guide for schools, colleges and employers.
Providing an extra 250,000 work experience places over the next three years for young unemployed people across the UK as part of the Youth Contract. This will come with an offer of a work experience place for every 18- to 24-year-old who wants one, before they enter the Work Programme.
Funding charities and businesses to help the most disengaged 16- to 17-year-olds get skills and jobs. As part of the Youth Contract, £150 million will be available over the next three years to get the most vulnerable and disengaged young people back in education, onto an apprenticeship or into sustainable employment.
Transforming vocational education following Professor Wolf's review. The new 16-19 programmes of study will offer real breadth and depth to ensure young people have as many options as possible. They will include meaningful work-experience and a focus on English and maths.
Encouraging employers to take on an 18- to 24-year-old from the Work Programme by making available 160,000 job subsidies worth up to £2,275 for each business. This is more than enough to cover an employer's National Insurance contributions for a year and exceeds the recommendations by the CBI in their recent report on youth employment.
Reforming the apprenticeships programme and, as part of the Youth Contract, ensuring funding for at least 40,000 incentive payments for small firms to take on 18-24 year old apprentices.
Joining up the welfare and skills systems, looking particularly at how we can bring together the skills and welfare systems so that the Work Programme and skills providers work together to offer basic skills training, training in sectoral/vocational areas needed locally, and work experience to best support young people with low skills levels.
Launching a National Careers Service in April 2012 to provide information, advice and guidance about careers and learning covering further and higher education, apprenticeships and other forms of training.
Minister for Children and Young People Tim Loughton, said:
Too many 16- and 17-year-olds lack the confidence, skills or motivation to stay in education or find a job - we must put this right. It makes moral and financial sense to get these young people learning a trade, finding work, or gaining qualifications so they make a positive contribution to their own futures, and to society. We are providing £150 million to focus on vulnerable young people and those who have dropped out - getting them thinking about their futures and back into education or work-based training.
Employment Minister Chris Grayling, said:
We appreciate that in hard economic times employers will often choose employees with proven work experience. We want to put young people on the front foot, giving them the help and support they need to find and keep employment.
Our work experience has already proven successful with 50 per cent of young people leaving benefits after taking part in the initiative. We are committed to securing the future of our young people by building on this with extra access and by incentivising employers to take on young people through the Work Programme.
Skills Minister John Hayes, said:
We're taking action to get our young people into education, training and work, helping them get on the path to a fulfilling life, providing the right advice and guidance through a new National Careers Service and restoring a sense of responsibility and purposeful pride in our communities.
Having built the largest apprenticeships programme our country has ever seen; we are now incentivising employers to offer more high-quality apprenticeships. We are also aligning welfare and skills reforms to better support young people without basic skills get up to speed and progress on to jobs and apprenticeships.
Welcoming the extra money for work experience for 16- to 19-year-olds, Professor Alison Wolf said:
I am delighted that the government has acted quickly in implementing my recommendation. This initiative addresses the challenges colleges currently face in organising high quality work experience for those young people who most need it.
Notes to editors
Further information on BIS and DWP policies for young people are available here: * Youth participation
* Building Engagement, Building Futures.

The deputy prime minister set out a new Youth Contract worth almost £1 billion in November 2011.

The Participation Strategy follows the recent publication by BIS of key reforms to Further Education in 'New Challenges, New Chances' on 1 December 2011.

The Department for Education has today published a new work experience myth-buster to help schools and colleges deliver high quality work-experience.

The 25 colleges who will be funded to provide 16- to 19-year-olds with high-quality work-experience are:
Colleges funded to provide work experience
| Local Authority | Region | Name |
| --- | --- | --- |
| Sandwell | West Midlands | Sandwell College |
| Coventry | West Midlands | Henley College |
| Walsall | West Midlands | Walsall College |
| Peterborough | East | Peterborough Regional College |
| Telford and Wrekin | West Midlands | Telford College of Arts and Technology |
| Birmingham | West Midlands | South Birmingham College |
| Knowsley | North West | Knowsley Community College |
| Redcar and Cleveland | North East | Redcar and Cleveland College |
| Halton | North West | Riverside College Halton |
| Middlesborough | North East | Middlesborough College |
| Rochdale | North West | t.b.c |
| Sheffield | Y&H | The Sheffield College |
| Wirral | North West | Wirral Metropolitan College |
| Sunderland | North East | City of Sunderland College |
| Leeds | Y&H | Leeds City College |
| Manchester | North West | The Manchester College |
| Liverpool | North West | Liverpool Community College |
| South Tyneside | North East | South Tyneside College |
| Bolton | North West | Bolton Community College |
| Wakefield | Y&H | Wakefield College |
| Bradford | Y&H | Shipley College |
| Portsmouth | South East | Highbury College |
| Southampton | South East | Southampton City College |
| Lambeth | London | Lambeth College |
| Bristol | South West | City of Bristol College |
DfE media enquiries
Central newsdesk - for journalists 020 7783 8300
Published 15 December 2011