News story
Government launches first Islamic Finance Task Force
Today, the Government launched the UK's first Islamic Finance Task Force.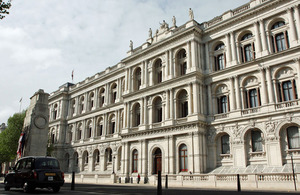 The Task Force will help to cement London's status as the western hub for Islamic finance by showcasing the UK as the preferred choice for the Muslim world to invest in and do business with.
From day one the Task Force will support development of the UK's Islamic finance sector, increasing inward investment and strengthening the economy. The Task Force will include major industry figures to ensure that the UK's offer is promoted at home and abroad by both the public and private sector.
The Task Force will have three key objectives:
to act as UK Ministerial Champions for the World Islamic Economic Forum in London on 29-31 October;
to engage with the United Kingdom Islamic Finance Secretariat (UKIFS) and others to promote and raise the international profile of the industry;
to use Islamic Finance to facilitate inward investment and strengthen the UK economy, including through our ongoing support for Sovereign Wealth Funds looking to invest in UK infrastructure.
The Islamic finance Task Force will be co-chaired by Financial Secretary to the Treasury, Greg Clark and Baroness Warsi, Senior Minister of State at the Foreign and Commonwealth Office. Minister of Trade and Investment, Lord Green and Minister of State for International Development Alan Duncan will provide additional ministerial support. Key industry figures have agreed to support the Task Force and assist in its work.
The World Islamic Economic Forum, hosted in London in October, will be the Task Force's first key milestone.
Financial Secretary to the Treasury, Rt Hon Greg Clark MP said:
This Government's priority is to make sure that Britain is open for business. The Islamic Finance Task Force is a perfect example of our ambition to promote London as a leading financial centre and attract inward investment for the wider economy.
The Task Force has an important role to play. Our focus now is to ensure that the UK and London is well placed to showcase what we have to offer at the World Islamic Economic Forum in October.
Senior Minister of State at the Foreign and Commonwealth Office, Baroness Warsi said:
We expect the global market for Islamic financial services to experience significant growth over the coming years, but feedback from decision makers in the Middle East and South East Asia suggests there is a lack of awareness of the UK industry and that we should be doing more to promote the sector.
There are also major opportunities to attract investment into the UK as demand for Islamic finance increases from private investors and Sovereign Wealth Funds.
For that reason we are announcing today the formation of a Ministerial Task Force for Islamic Finance.
Published 11 March 2013