Press release
Government initiatives to help build more new homes on brownfield land
Thousands of new homes will be built on unused and previously-developed land.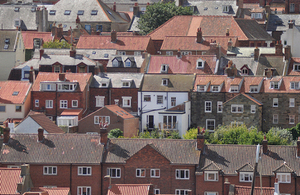 Thousands of new homes will be built on unused and previously-developed land under the government's plans to make it easier to build on brownfield sites suitable for housing.
Ministers are clear of the need to make the best possible use of brownfield land in a way that keeps strong safeguards in place that protect our valued countryside.
Councils will play a critical role in bringing forward brownfield land and will be asked to put in place local development orders which can provide sites with outline planning permission to speed up the building of new homes.
This could provide up to 200,000 permissions for new homes by 2020. In addition, 20 new housing zones on this brownfield land in London will benefit from £400 million funding from the government and the Greater London Authority.
There will be £200 million of additional government funding available for 10 zones outside London.
Speaking at Mansion House, Chancellor of the Exchequer George Osborne said:
We have beautiful landscapes, and they too are part of the inheritance of the next generation. To preserve them, we must make other compromises. If we want to limit development on important green spaces, we have to remove all the obstacles that remain to development on brown field sites.

Today we do that with these radical steps, putting local development orders on over 90% of brownfield sites that are suitable for housing. This urban planning revolution will mean that in effect development on these sites will be pre-approved - local authorities will be able to specify the type of housing. And it will mean planning permission for up to 200,000 new homes - while at the same time protecting our green spaces.
The Chancellor went on to say:
I suspect there will be people who object to new building, even on the brownfields of our cities. But let me be clear.

I will not stand by and allow this generation, many of whom have been fortunate enough to own their own home, to say to the next generation: we're pulling up the property ladder behind us. So we will build the houses Britain needs so that more families can have the economic security that comes with home ownership.

And today I will give the Bank of England the powers it needs over mortgages, so that Britain's economic stability always comes first. And that is what our long term economic plan is delivering.
Communities Secretary Eric Pickles said:
We're determined to make the very best use of derelict land and former industrial sites to provide the homes this country desperately needs in a way that protects our valued countryside. By ensuring commitments to housing development are in place early and having dedicated housing zones, building becomes, quicker and easier for homebuilders, businesses and councils.
Unlocking brownfield land for new homes
There is enough previously-developed, brownfield land to deliver of up to 200,000 new homes across the country.
With the need to get Britain building as part of the government's wider long-term economic plan, ministers are determined to pull out all the stops to get planning permissions granted and work started on these new homes as soon as possible.
Ministers will look to councils to consult on and make local development orders - which are a flexible way to grant planning permission - on brownfield land that is suitable for housing in their area. These can set out the amount and type of housing that can be built on sites and assist developers working up suitable schemes to get work started on site quicker. And a new £5 million fund will be launched before the summer to support the first wave of new local development orders. The Mayor will also be offered powers to drive forward local development orders to get work speeded up.
The government will invite bids for funding for housing zones outside of London later this year.
Key safeguards will remain in place - as with any planning application councils will need to take account of the views of local people, and the housing needs of their communities.
Ministers want to see permissions for homes in place on more than 90% of suitable brownfield land by 2020 and will be consulting on measures to underpin this ambition.
Regenerating run-down estates
Ministers also want to ensure that, as well as making the best use of brownfield land, existing housing estates in need of large-scale regeneration also get the attention they deserve.
Such a move has the potential to deliver additional new homes on existing land. For example, London's inner boroughs will contain 1.7 million fewer people than they did in 1911 - despite record numbers of people expected to be living in the Capital by 2021.
Today, a new prospectus outlines how developers can bid for a share of a £150 million loan fund to invest in kick-starting and accelerating the radical regeneration of some of the country's most deprived social housing estates. Projects that look to completely transform these estates could receive a share of the funding, with the aim that schemes will increase the numbers of properties available, improve the quality of the properties and create more potential for private investment.
The Mayor of London, Boris Johnson said:
This estate regeneration fund will allow us to provide wonderful new homes for existing residents and radically improve the quality of housing in many neglected communities. We want to create welcoming neighbourhoods in which people aspire to live all across the capital. Many of our estates date back to the 1960s and it is high time that they received a new lease of life and I urge developers to apply for the funding and get building.
Picture courtesy of stevekeiretsu under Creative Commons copyright.
Further information
The Greater London Authority will publish details of how to apply to become one of their housing zones later this year.
See details of how to apply for the £150 million Estates Regeneration funding published today.
See London's historical population figures.
Office address and general enquiries
2 Marsham Street
London
SW1P 4DF
Contact form http://forms.communiti...
General enquiries: please use this number if you are a member of the public 030 3444 0000
Published 13 June 2014