Press release
Government funded spider venom project to provide lifeline for bees
UK businesses and universities to benefit from £16 million of funding to solve some of the world's greatest agricultural challenges.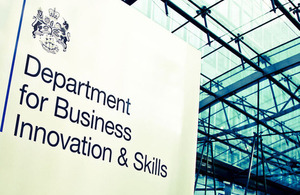 Businesses and universities across the UK will benefit from £16 million of funding from government and industry to solve some of the world's greatest agricultural challenges.
This £16 million is part of the second round of funding to be distributed through the £70 million Agri-Tech Catalyst, announced as part of the UK Industrial Strategy for Agricultural Technologies in July 2013.
A £1 million project led by Arch UK Biocides Limited and in collaboration with the University of Durham, the Food and Research Agency (FERA) and I2LRESEARCH LTD, will receive over £650,000 Agri-Tech Catalyst funding to further develop an environmentally friendly pesticide which is harmless to non-target species including bees. This next generation pesticide will use naturally occurring peptides, found in spider venom, to produce an orally effective treatment which can be produced commercially.
Venom peptides, known to be harmless to mammals, are fused to a 'carrier' protein that can then be applied to crops on a large scale. When treated crops are eaten by pests, such as slugs or beetles, the 'carrier' protein transports the spider toxin from the pests gut and into the nervous system; erradicating the threat without impacting on other species.
The initial programme will develop formulations targeting slugs and beetle pests of wheat and oil seed rape.
Universities, Science, and Cities Minister Greg Clark:
As much as a third of the food we consume is pollinated by bees and therefore addressing the threats they face is a very real challenge for society. From the cotton required for the shirts on our backs, to the sprouts we enjoy at Christmas, none of these would be possible without bees.

I am pleased that the Agri-Tech catalyst is supporting innovative projects that can effect real change for the better. It is groundbreaking projects like these which are establishing the UK as a world leader in agriculture technology, innovation and sustainability.
Environment Minister Lord de Mauley said:
These exciting catalyst projects all contribute to making the UK a world leader in agricultural science, growing the food and farming sector and improving our environment.

The development of a new bee-friendly pesticide is a great example of using science to protect our food production and our rural economy for the future.

We want the UK to continue to be at the forefront of future innovation for horticulture which is why we've also invested an additional £10 million to improve the way we grow fruits and potatoes.
Jackie Hunter, Biotechnology and Biological Sciences Research Council (BBSRC) Chief Executive, said:
These projects will help to provide some really innovative solutions to agricultural challenges in crops and livestock. They will enable the UK to really make progress towards feeding a growing population, addressing the effects of climate change and improving chemical production by plants.
Kevin Baughan, Director of Technology and Innovation at Innovate UK, said:
It's great to see such significant interest in the Agri-Tech Catalyst, now with more than 200 applications across Rounds 1 and 2.

Our earlier investments through the Sustainable Agriculture and Food Innovation Platform have helped the community to take forward new agricultural innovations which are now supported further through the Catalyst. This is helping to translate new technologies and products into practice in the field.
Other projects which have received funding include:
Glasgow: optimising the efficiency of beef farming by monitoring the feeding behaviour and growth of individual cows: £1.3 million (£1,000,000 from Agri-Tech Catalyst and £350,000 from industry)
Dunbia, Wales: developing a new lamb grading system based on imaging technology to more accurately assess meat, with potential to drive lamb breeding strategies to meet consumer requirements: £890,000 (£470,000 from Agri-Tech Catalyst and £420,000 from industry)
Billingham, North East: decreasing food waste of tomato and pepper production by suspending ripening at optimum eating quality without using chemicals: £2.2 million (£1.1 million from Agri-Tech Catalyst and £1.1 million from industry)
Theale, Berkshire: increasing oat yields by developing new tools for growers, including translation of sensor data from unmanned aircraft systems to optimise growing conditions: £1.9 million (£1.3 million from Agri-Tech Catalyst and £550,000 from industry)
Uxbridge, London: addressing the effects of climate change on blackcurrant production by assessing the use of treatments to combat warmer winters used in other crops: £890,000 (£680,000 from Agri-Tech Catalyst and £210,000 from industry)
Notes to editors
Launched in October 2013, the Catalyst supports industry-led 'proof of concept' development of near-market agricultural innovations. Designed to attract co-investment from industry, the Catalyst will aim to involve small and medium-sized enterprises alongside larger companies. The £70 million government investment includes £10 million to support the transfer of technology and new products to developing countries.
The £70 million Agri-Tech Catalyst is funded by the Department for Business, Innovation and Skills, the Biotechnology and Biological Sciences Research Council, and the Department for International Development.
The Agri-Tech Catalyst is run by Innovate UK and the Biotechnology and Biological Sciences Research Council.
Details of Round 3 of the Agri-Tech Catalyst can be found at the early stage, late stage and industrial research Catalyst web pages.
Further details on the projects awarded funding can be found Innovate UK.
Published 24 December 2014