Government announces £1 million support for Bomber Command memorial
One-off grant confirmed by Heritage Minister John Penrose.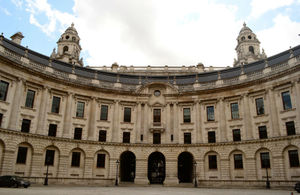 A one-off capital grant of £796,000 towards the creation of a permanent memorial in London's Green Park to honour the 55,573 men of Bomber Command who lost their lives in World War II, was announced today by Heritage Minister John Penrose.  A grant of £204,000 was recently given to the project under the Government's Memorials Grant Scheme, bringing total support to the project from the DCMS to £1 million.
The memorial, which has been largely funded by donations from a public appeal as well as significant contributions from three individual benefactors, is due to be completed and dedicated in June this year.
John Penrose said:
The sacrifice made by everyone who served, and the many who lost their lives, with Bomber Command during the war humbles us all.  Their courage and heroism helped win the war, so it is absolutely right that this should be marked with a permanent memorial.  These Government grants will settle the tax bill that the campaigners will have to pay, so the public's donations will all go to fund the memorial, rather than to the tax man.
Bomber Command Association Chairman, Air Commodore (Ret'd) Malcolm White added:
The Bomber Command Association is absolutely delighted that the government has agreed this grant to the Bomber Command Memorial Fund at such a critical time in the Memorial's construction. This is splendid news and it makes a difference - the Team could not have asked for better news." 
Notes to Editors
The RAF Bomber Command Association (BCA) and the Heritage Foundation have campaigned since 2008 for a memorial to commemorate the 55,573 men of the RAF Bomber Command that lost their lives in World War II.
 
Planning consent was granted by Westminster City Council in May 2010 to allow the memorial to be built in Green Park.  BCA intend to open the memorial in June 2012.
 
The memorial has been funded mainly through donations from veterans and their families.  The  total cost of the memorial is believed to be between £5m and £7m, including ongoing fundraising for the maintenance and upkeep of the Memorial in the future.
In October 2011, John Penrose, the Minister for Heritage and Andrew Robathan MP, Minister for Defence Personnel, Welfare and Veterans met with the Chairman of the BCA and his colleagues to discuss the plans for the memorial.  The Bomber Command Memorial received £204,000 in November 2011 through the DCMS Memorials Grant Scheme. DCMS have now offered the Bomber Command Association a one-off capital grant of £796,000 for the memorial, bringing the support from the DCMS to £1m.
Press Enquiries: 020 7211 2210
Out of hours telephone pager no: 07699 751153
Public Enquiries: 020 7211 6000
Published 9 February 2012