Gove announces expansion of academies programme
Eligibility for academy status to be opened up to benefit all schools.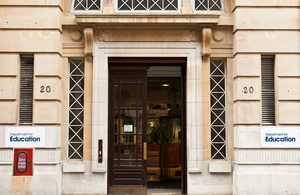 Education Secretary Michael Gove will today announce the opening up of the route to academy status so that every school can become an academy by allowing existing schools that are strong performers to work in partnership with weaker schools.
Michael Gove will today make the announcement alongside the Prime Minister at an event at Downing Street, with more than 150 outstanding school headteachers who have already applied to open academies.
Alongside outstanding schools, all schools that are ranked good with outstanding features by Ofsted will automatically be eligible for academy status. All other schools - primary or secondary - that wish to enjoy academy freedoms will also be eligible, providing they work in partnership with a high-performing school that will help drive improvement.
In addition, for the first time, special schools will also have the opportunity to become academies, providing them the opportunity to operate with greater freedom and autonomy in order to better respond to the needs of children with special educational needs or disabilities. Special schools will be able to apply to convert in January.
Speaking ahead of an event with academy headteachers, Prime Minster David Cameron said:
Improving education is central to our reform agenda and we are committed to giving governors, headteachers and teachers more control over how they run their schools. We know they are best placed to decide how to give their pupils the best possible education and that is why we are encouraging more schools to become academies.
Many more schools will now be able to become academies and I am pleased they will be able to enjoy the additional freedoms, responsibility and empowerment that comes with academy status.
Secretary of State for Education, Michael Gove, said:
Inspirational school leaders like Mike Wilkins at Outwood Grange, David Triggs at Greensward, David Hampson at Tollbar, and Barry Day at Nottingham Academy have all secured exceptional results for children at their own schools and are now extending their reach even further. They have used academy powers to take weaker schools under their wing and help raise standards in local underperforming schools.
We know that the best way of improving schools is by getting the professionals, who have already done a brilliant job, to spread their wings. That is why we are now allowing more schools to benefit by enabling all schools to apply for academy status, if they are teamed with a high-performing school.
DfE enquiries
Central newsdesk - for journalists 020 7783 8300
General enquiries - for members of the public 0370 000 2288
Published 17 November 2010