News story
Global social economy promoted in Scotland
Francis Maude announced a global campaign to promote the UK social economy, meeting Scottish social entrepreneurs at Chivas distillery.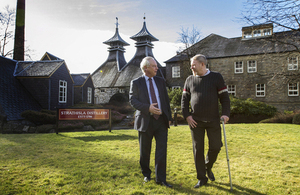 Successful Scottish social enterprises and social investors joined Cabinet Office Minister Francis Maude, the British Council and Chivas to announce a global campaign designed to boost the UK social economy.
Social enterprises contribute over £55 billion to the UK economy annually, helping our economy to grow. More than 4 in 5 social enterprises, 82%, reinvest their profits into the local community, find out more in Fightback Britain.
The GREAT campaign and social investment
Launched by the Prime Minister in 2012 the GREAT campaign aims to promote the UK internationally as a place to visit, study and do business. It is active in 144 countries and has delivered a direct return to the economy of over £1 billion.
The first part of this social economy campaign launched in New York last week. Seventeen UK firms involved in social enterprise attended a trade mission to New York in partnership with Bloomberg.
The campaign, supported by Cabinet Office and UK Trade & Investment, will promote the UK as the number one destination for social investment. It will showcase the strength and creativity of social enterprises in Scotland and across the UK. Read more about social investment and social entrepreneurship in the UK.
Cabinet Office Minister Francis Maude said:
As part of this government's long term plan for the economy, we want to support ambitious social enterprises many of which are based here in Scotland. Global investors from Shanghai to New York should look to the UK.

Our goal is promote the UK as the global hub of social investment where businesses and individuals can invest in enterprises that have a positive social impact and make a difference in communities.

This government has made social impact bonds eligible for our new social investment tax relief and I hope this will attract new investors and expertise.
Chivas and social enterprise
Strathisla Distillery in Keith, Banffshire, home of whisky maker Chivas, hosts today's social economy event. Chivas is the latest successful Scottish business to feature in the GREAT campaign.
Chivas recently launched a global campaign 'The Venture' to support the most promising social enterprises to grow. The global final of The Venture takes place in Silicon Valley in July with 16 enterprises competing for a share of $1 million. UK winner Two Fingers Brewery and finalist Delivered Next Day Personally attended the event to talk about their successful enterprises.
Glasgow-based Delivered Next Day Personally is a courier and mail delivery service founded in 2012. The social enterprise enables disabled people in Scotland to work in a way that puts their care and health to the forefront. It was founded by Bruce Gunn who had an allergic reaction to a mosquito bite while on holiday to Spain in 2008, which led to a long-term illness.
Denis O'Flynn, Pernod Ricard UK Managing Director said:
Entrepreneurial thinking and a spirit of generosity are at the heart of the Chivas story. John and James Chivas were entrepreneurs with a social conscience. They helped the local community in Aberdeen as their business grew. The Venture competition is one of the ways we keep those values alive today. The diversity and quality of the entries we've had for The Venture really demonstrates the vibrancy of the UK social economy.
Social enterprise education packs
At the event, British Council Scotland Director Lloyd Anderson announced a partnership with the Scottish Social Enterprise Academy and the Real Ideas Organisation. They will develop 4,500 education packs, to provide hands-on experience of running a social enterprise, for distribution in the UK and overseas.
Dr Lloyd Anderson, British Council Scotland Director, said:
The British Council draws on UK expertise to support the development of social enterprise globally.  We provide training and mentoring to social enterprises, support policy leaders to create enabling environments in which social enterprise can thrive, and facilitate international academic research on social enterprise. In doing so, we partner with a number of Scottish organisations and create opportunities for them to enter new markets and win contracts overseas. We are delighted to announce this new agreement that helps to promote positive social change, support the UK's social economy, and build trust between the UK and other countries.
Published 5 March 2015