News story
International development in the UK's G8 presidency
Summary of the UK's announcements on international development before and during the 2013 G8 Summit.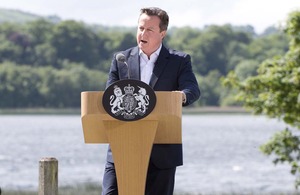 Nutrition and hunger
The UK government and the Children's Investment Fund Foundation co-hosted a high-level international meeting - Nutrition for Growth: Beating Hunger through Business and Science - on 8 June. The event focused on reducing stunting and improving nutrition for pregnant women and young children. Countries, donors, foundations, businesses and civil society came together to accelerate action on ambitious targets, and on this significant day world leaders signed a global agreement to help beat hunger and malnutrition.
We also worked with a range of companies to both assess the progress and expand the reach of the G8 New Alliance for Food Security and Nutrition.
Humanitarian aid for Syria crisis
At the G8 leaders summit on 18 June, the UK announced an additional £175m in response to the Syria crisis to provide immediate humanitarian assistance to hundreds of thousands of Syrians in desperate need. The funding will also be used over the next two years to help aid and development agencies plan a more strategic, long term response. This new funding doubled what the UK had already allocated to the crisis. It was part of a total of almost $1.5 billion in additional contributions agreed by G8 leaders at the summit to meet humanitarian needs in Syria and its neighbours.
Trade, tax and transparency
The pre-summit Open for Growth event involved wider discussions on trade, tax, and transparency with business, civil society and governments. It showed why open governments, open societies and open economies are essential for growth, jobs and sustainable development. Discussions centred on how we can work together to promote and practise fairer trade, proper taxes and more transparent investment in land, minerals, oil and gas.
Read more about the event and its outcomes.
Innovation
At the G8 Innovation Conference, Prime Minister David Cameron announced the launch of Global Development Innovation Ventures, which will find innovative solutions to some of the world's most pressing problems. It will test their successes and invest in the best performers - including entrepreneurs, academics and non-governmental organisations.
Impact investment
Britain will help improve the lives of over five million people in Africa and Asia by boosting private investment into promising health, education and agriculture projects.
On 13 June, the International Development Secretary Justine Greening announced two new programmes to train investors and help them to share best practice, supporting the burgeoning impact investment market. Britain will also boost early stage investments in African farming and agriculture to help the continent escape the threat of hunger and malnutrition. A £50 million investment into the Agricultural Development Company will benefit 650,000 people across Africa with jobs and better incomes.
Find out more about what we are doing with impact investments
Transparency and accountability
Lough Erne accountability report
The Lough Erne accountability report shows what progress has been achieved on the promises made by G8 leaders on development over the last decade.
Watch our interactive slideshow which pulls out the key points of the accountability report.
Development Tracker
A beta test phase of DFID's transparency platform which tracks the UK's spending in developing countries went live on 5 June.
The Development Tracker allows members of the public worldwide to discover full information on UK international development projects, including project documents and details of transactions. It demonstrates to other governments and development organisations what can be achieved when data on development spending data is open and published to the International Aid Transparency Initiative standard. The test phase aims to gather feedback on whether this meets people's needs for finding full information on UK's spending on international development before the official version goes live later this year.
Related links
Published 20 June 2013