World leaders sign global agreement to help beat hunger
Governments, businesses and charities make a historic pledge to end undernutrition in our lifetime at today's Nutrition for Growth event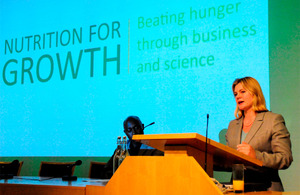 World leaders have today signed a global agreement that will prevent millions of infant deaths, and boost the life chances of millions more, by equipping the developing world with the means to beat malnutrition.
---
See also
---
Prime Minister David Cameron, Brazilian Vice President Michel Temer and the Children's Investment Fund Foundation president Jamie Cooper-Hohn led a high level summit in London of developing and developed nations, businesses, scientific and civil society groups, committing them to supporting a historic reduction in "undernutrition".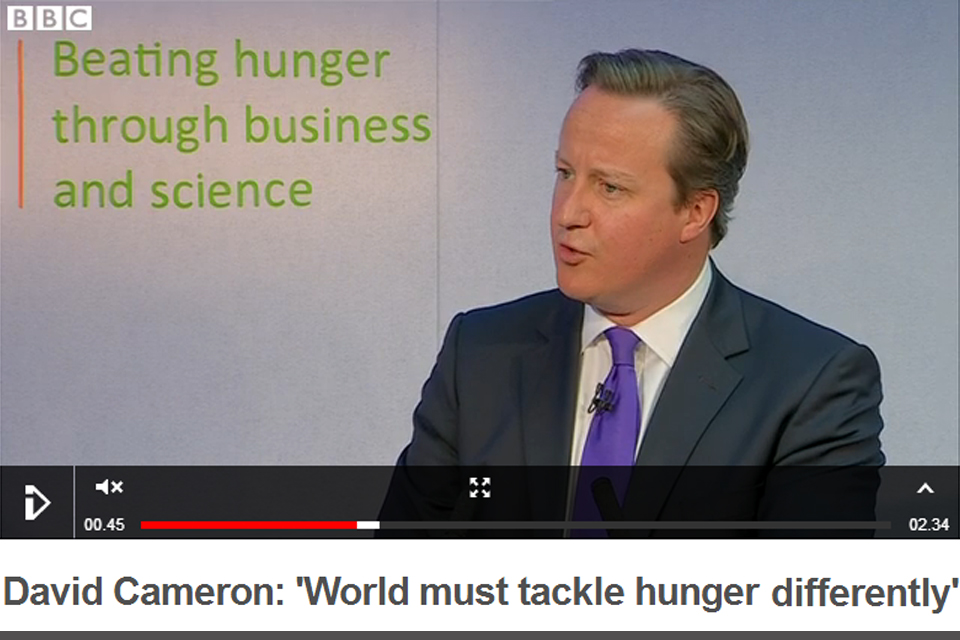 Undernutrition is a chronic lack of nutrients that can result in death, stunted physical development and in a lower resistance to illnesses in later life. It is the biggest underlying cause of death in under-five-year-olds in the world and is responsible for 8,000 child deaths each day. It stunts the growth of children, reducing their potential, undermining their adult earnings by up to 10%, and in some countries reducing the size of the economy by 11% as a result.
The participants - who signed a Global Nutrition for Growth Compact - committed their countries and organisations by 2020 to:
improving the nutrition of 500 million pregnant women and young children
reducing the number of children under five who are stunted by an additional 20 million
saving the lives of at least 1.7 million children by preventing stunting, increasing breastfeeding and better treatment of severe and acute malnutrition
Among the participants in today's central London summit were two presidents and four prime ministers from Africa, Irish Taoiseach Enda Kenny, philanthropist Bill Gates, former UN Secretary General Kofi Annan and Unilever chief executive Paul Polman.
Donors have today secured new commitments of up to £2.7 billion ($4.15 billion) to tackle undernutrition up to 2020, £1.9 billion ($2.9 billion) of which is core funding with the remainder secured through matched funding. The UK has today committed an additional £375 million of core funding and £280 million of matched funding from 2013 to 2020.
Countries which have previously increased nutrition funding, like the US and Canada, today committed themselves to continuing those high levels of funding while others, like the European Union, the World Bank and Ireland, have increased their support substantially.
The funds will focus on:
making world-class scientific knowledge and evidence available, including through a new Global Panel on Agriculture and Food Systems for Nutrition, so that farmers can grow nutrition-rich and resilient crops, such as vitamin-enriched sweet potato and corn, to feed their families and local areas
promoting breastfeeding as a priority for protecting nutrition and saving lives
supporting the governments of developing countries to formulate high quality national nutrition plans and helping them to mobilise domestic resources for them and
ensuring businesses in developing countries place good nutrition at the heart of their workforce welfare priorities.
International Development Secretary Justine Greening said:
Undernutrition is stopping children and countries from reaching their full potential, accounting for the loss of billions of dollars in productivity. A strong and healthy workforce is vital if a country's economy is to prosper. This means business and science taking a lead in fighting for good nutrition because we understand that better nutrition is the smart way to tackle extreme poverty, child mortality and economic underachievement.
The commitments secured today will help transform the life chances of millions of children and pregnant women by ensuring they get the right nutrition at the right time, securing greater long-term economic growth and prosperity for all.
President and CEO of the Children's Investment Fund Foundation (CIFF) Jamie Cooper-Hohn said:
We have a unique window of opportunity now to marshal the global coalescence around the nutrition agenda and to tackle the root cause of child mortality and economic underachievement. With renewed commitment from all of us in recognition of the centrality of nutrition to economic growth and development we will be making one of the most important contributions to the growth and economic development of some of the poorest countries in the world.
Today marks the start of a sustained financial and political commitment to ending undernutrition within a generation. Working together, this unique coalition can take action which history will judge as having contributed to saving the lives of millions of women and children and setting nations on a strong economic path to prosperity.
Undernutrition is an underlying cause in 45% of deaths amongst children under five, while nearly 165 million suffer from stunting which stops children's bodies from developing properly. The effects of undernutrition have the greatest impact in the first 1,000 days of life from conception to a child's second birthday. Failure to get the right nutrition at this critical time causes irreversible lifelong damage.
Nutrition for Growth builds on the process started at last year's Hunger Summit held by the UK and Brazilian Governments in London, which highlighted the devastating consequences of undernutrition on children.
The World Health Assembly recently agreed a new global target of a 40% reduction in the number of stunted children by 2025. The commitments secured today will transform progress towards this goal. Commitments made today will be monitored and tracked annually, and progress made in addressing undernutrition will be measured at a global event in Brazil at the Rio 2016 Olympics.
Related government links
More around the web
Published 8 June 2013
Last updated 14 October 2013
+ show all updates
Updated N4G Compact (English) to relect new signatories

First published.