Press release
Funding boost will provide 200,000 homes on brownfield land
Brandon Lewis announces multi-million pound fund to help provide 200,000 new homes on brownfield sites across the country.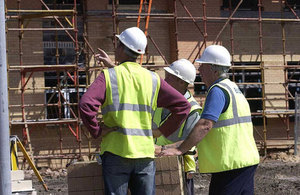 Housing and Planning Minister Brandon Lewis today (28 January 2015) announced a multi-million pound fund to help provide 200,000 new homes on brownfield sites across the country.
Housebuilding is a key part of the government's long-term economic plan – with starts now at their highest since 2007.
Today's £4.4 million fund will enable councils to bring forward brownfield sites of 100 homes or more in their area – making it quicker and easier for developers to get work started.
Unlocking development on brownfield sites
Since 2010 the government has pulled out all the stops to get the country building again – while at the same time keeping in place strong protections for green belt land.
The National Planning Policy Framework makes clear the need to prioritise building on previously-used brownfield land, while new measures make it easier to convert existing commercial, retail and agricultural buildings for residential use.
All this means more than two thirds of all new homes are now built on brownfield sites, while in the year to September planning permission was granted for 240,000 new homes.
But the government wants to go further – and has set a clear ambition to have local development orders granting planning permission for new homes in place on over 90% of suitable brownfield land by 2020.
Today's £4.4 million fund will help towards this. Planning permissions granted through local development orders will give the green light for new homes to be built on those sites.
This will let developers get planning permission quickly – getting workers on site quicker, and homes that communities want built.
Housing Minister Brandon Lewis said:
Our efforts to get the country building again are working – housing starts are at their highest since 2007 and climbing. But we need to do more, delivering more homes while at the same time protecting our precious green belt.

That's why today I'm taking steps that will help to make enough brownfield land available for 200,000 homes up and down the country, creating the homes and jobs communities want and need.
Publishing brownfield site data
Today, the government also published proposals for the collection and sharing of information by local authorities on suitable brownfield land.
Information would be updated at least annually, and would enable local residents to see the land that is available for new homes in their area – and to challenge councils to get work started.
The government's proposals for sharing data on suitable brownfield land make clear that identified sites should meet 4 key criteria.
The sites should be:
deliverable – available for development now or in the near future

free of constraints – unless they should be readily overcome; contaminated land should also be excluded if there is clear evidence the clean-up costs would make development unviable

capable of development – in a condition and location that makes the site a genuine option for developers

capable of providing at least 5 homes
Other measures that have been introduced to get homes built on brownfield land include:
a package of measures to get empty homes back into use – meaning the numbers of empty homes are now at their lowest since records began

the development of a new garden city at Ebbsfleet on brownfield land, supported by an Urban Development Corporation and up to £200 million government funding

a programme to sell formerly-used, surplus public sector land – with the government well on track to provide enough land for 100,000 homes

a £150 million Estate Regeneration Fund to help kickstart and accelerate the regeneration of housing estates
Further information
The consultation on building more homes on brownfield land is published today.
Office address and general enquiries
2 Marsham Street
London
SW1P 4DF
Contact form http://forms.communiti...
General enquiries: please use this number if you are a member of the public 030 3444 0000
Published 28 January 2015