Full list of the Department for Education's ministerial appointments has been confirmed
Information on the newly appointed ministerial team of the Department for Education.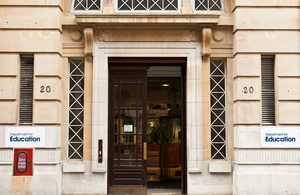 The full list of ministerial appointments has now been confirmed at the Department for Education. The list is as follows:
Secretary of State for Education: The Rt Hon Michael Gove MP
Minister of State for Schools: Nick Gibb MP
Minister of State for Children and Families: Sarah Teather MP
Parliamentary Under-Secretary of State for Schools: Lord Hill of Oareford CBE
Parliamentary Under-Secretary of State for Children and Families: Tim Loughton MP.
Biographies and main ministerial responsibilities for the new team are:
Secretary of State for Education - The Rt Hon Michael Gove MP
The Secretary of State will have oversight of all policies.
Michael is the Member of Parliament for Surrey Heath.
He is married to Sarah, a journalist on The Times, and they have 2 children: Beatrice, born in May 2003, and William, born in November 2004.
He was born in 1967 in Edinburgh and was educated at Robert Gordon's College, Aberdeen and then Lady Margaret Hall, Oxford University.
His past career includes being a reporter for The Press and Journal in Aberdeen, a researcher and reporter at Scottish Television, a reporter for BBC Television, and assistant editor of The Times.
Minister of State for Schools - Nick Gibb MP
Policy responsibilities include:
behaviour, attendance and bullying
assessment and key stage tests
independent schools
contingency planning/response
QCDA/Ofqual
school admissions
NEETs
apprenticeships
reducing bureaucracy in schools
careers/IAG
qualifications (diplomas etc)
reform of national curriculum for 5- to 19-year-olds (including music, STEM, setting of classes)
YPLA
Nick Gibb is the Member of Parliament for Bognor Regis and Littlehampton.
Nick was born in 1960. He was educated at Maidstone Grammar School; Roundhay School, Leeds; Thornes House School, Wakefield; and Durham University, where he achieved an honours degree in law. In 1982, he joined NatWest as a graduate trainee. In 1984 he joined KPMG as a chartered accountant until his election to parliament in 1997.
Nick was a frontbench spokesman on trade and industry matters from June 1999 to September 2001, previously having been appointed frontbench spokesman on treasury matters. Since May 2005, he has served as a Shadow Minister for Education, and until the election was Shadow Minister for Schools.
Parliamentary Under-Secretary of State for Schools - Lord Hill of Oareford CBE
Policy responsibilities include:
academies
free schools (parental engagement in schools)
Ofsted inspection of schools
school improvement (including National Challenge, City Challenge, and other improvement policies)
school funding (including pupil premium)
teachers and workforce issues
teacher supply/quality
school transport
schools' capital and BSF
technical academies
Born in 1960, Lord Hill is married with 3 children and lives near Salisbury. He was educated at Highgate School and Trinity College, Cambridge where he read History.
Before working in the private sector, he was an adviser in Whitehall in the 1980s and 1990s. He worked at 3 government departments - Employment; Trade and Industry; and Health, before joining the Number 10 Policy Unit in 1991. He was Political Secretary and Head of the Prime Minister's Political Office from 1992 to1994.
Minister of State for Children and Families - Sarah Teather MP
Policy responsibilities include:
children's centres
childcare
early learning and development
curriculum for children from birth to 5 years of age
voluntary and community sector
UNCRC
families
health issues (obesity, drugs and alcohol, teenage pregnancy)
child poverty
children's services commissioning and market development
local authority funding/local government policy
government offices and field forces
school food/healthy schools
SEN and disabled children
young carers
Sarah Teather has been an MP since September 2003, representing Brent East until the 2010 general election, when she was elected as the first MP for the newly-created constituency of Brent Central. When elected to Parliament, Sarah was the youngest MP in Britain. She has previously served as Liberal Democrat spokesperson for Community and Local Government, Education, and Housing.
Before her election to parliament, Sarah read natural sciences at St John's College, Cambridge. She worked in science policy both in the public and private sectors, first at the Royal Society advising the UK government on scientific aspects of public policy, and later at a science policy consultancy, evaluating public policies on science and innovation for governments across Europe. Immediately before her election Sarah was working as a health and social policy analyst for Macmillan Cancer Relief.
Sarah lives in her constituency in Willesden Green, she enjoys music (she sings soprano in the Parliament Choir) and catching up with friends in her spare time.
Parliamentary Under-Secretary of State for Children and Families - Tim Loughton MP
Policy responsibilities include:
children's services inspection and intervention (including Ofsted)
children's trusts
safeguarding including the Vetting and Barring Scheme
Social Work Taskforce and social work reform
children's workforce
ContactPoint
ICS and eCAF (Common Assessment Framework) and Lead Professional
families with multiple problems
Cafcass and family law
children in care, fostering and adoption (including runaways)
domestic violence
National Citizen Service (including Youth Community Action)
sport
youth services
youth crime
Departmental efficiencies.
Tim was born in Eastbourne, Sussex in 1962. He was educated at The Priory School, Lewes; the University of Warwick; and Clare College, Cambridge, where he studied classical civilisation and Mesopotamian archaeology. He lives in Sussex with his wife Elizabeth, son and 2 daughters. Tim was first elected to Parliament on 1 May 1997, for the new West Sussex constituency of East Worthing & Shoreham.
After a period as Parliamentary Private Secretary to Shadow Chancellor Francis Maude, he was promoted to the frontbench environment team in February 2000 with responsibility for regeneration, the regions and housing. In September 2001 he was made a Shadow Health Minister with mental health, social services, and children's health and social care as part of his brief, and in June 2003, Shadow Minister for Children.
Tim's political interests include the economy, social exclusion, children's issues, special educational needs, youth justice, the environment, and health. He is captain of the Lords and Commons Hockey Team and a member of the tennis and skiing teams. His other outside interests include archaeology, wine and the South Downs.
In addition, some machinery of government changes have been confirmed. The Justice Secretary and the Secretary of State for Education have agreed that the Ministry of Justice will have sole responsibility for youth justice in the new coalition government.
They agreed that it was important that 1 department, the Ministry of Justice, is clearly accountable for this important area of reform. The Department for Education is refocusing on its core purpose of supporting teaching and learning, as well as strengthening children's services.
DfE enquiries
Central newsdesk - for journalists 020 7783 8300
General enquiries - for members of the public 0370 000 2288
Published 3 June 2010