Press release
Francis Maude tells technology suppliers: "We're open for business – let's turn government digital"
A Doing Business with HM Government roadshow has begun a tour of UK cities to show how innovative IT firms can work with the public sector.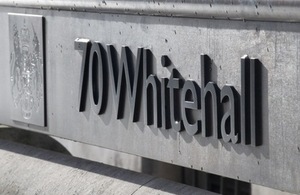 The government is open for business to innovative IT firms who want to contribute to the digital transformation of public services, Minister for the Cabinet Office Francis Maude announced today, as a roadshow aimed at engaging with a new generation of suppliers began a tour of UK cities.
The government is looking to work with more innovative and efficient IT suppliers who can help deliver world-class public services. This is in line with departmental digital strategies and commitments in the Civil Service Reform Plan for the Civil Service to develop its digital skills, do things faster, be smaller and provide more services online.
The digital strategies set out how departments will redesign or create new online services with the support of the Government Digital Service. The first wave of services to be totally redesigned to serve the user includes driving test bookings, tax returns, and state pension applications. They will be easier and quicker to use, and cheaper to run, saving the taxpayer £1.2 billion by 2015. Just last week, a report by the National Audit Office confirmed that government ICT reforms and spending controls saved the taxpayer £316 million last year alone.
Francis Maude said:
The way that government does business is changing. The days of waste and inefficiency, when public sector IT was dominated by overlong, restrictive contracts with a supplier oligopoly, are on the way out. We are making it easier for companies of all sizes to win government business. We want to see agile, innovative suppliers working with government on shorter, bespoke contracts to create the digital systems that support 21st century public services.

There are software and services companies out there that fit the new agile model for public sector IT but have never done business with us or could do more. The roadshow that starts in Birmingham today is designed to tell these innovative suppliers about the opportunities that are opening up, and explain how they can bid more effectively for them.

We want the best suppliers for government and to stimulate the growth potential in the UK IT sector. Much has been already been done over the past 2 years to remove obstacles to business, but we know there's more to do and we want to hear from suppliers about barriers that remain so we can get on to do something about them.
The roadshow for technology suppliers is part of the government's ongoing commitment to create a level playing field for companies bidding for government work and ensure an open and diverse marketplace, offering innovative solutions that offer the taxpayer real value for money.
The events – in Birmingham and Leeds on 30 January, and Manchester and Edinburgh on 31 January – will be hosted by Liam Maxwell, the newly appointed government Chief Technology Officer, and Stephen Allott, Crown Representative for Small and Medium Enterprises (SMEs).
The final roadshow will be in London on 26 February.
  ## Notes to editors:
Published 30 January 2013