Press release
Francis Maude statement on the award of Public Services Network Connectivity Framework Agreements
12 companies have been named as suppliers on the Public Services Network (PSN) Connectivity Framework.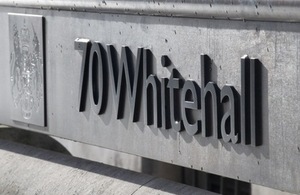 The Minister for the Cabinet Office, Francis Maude, said:
The Public Services Network is a fundamental building block of our ICT Strategy, and today's announcement of suppliers to the framework is a huge step forward in providing the infrastructure to deliver services to citizens more efficiently and cheaply.

We are confident that the PSN programme will substantially reduce the cost of communication services across government.

The 12 successful suppliers named in the PSN Connectivity Framework include small and medium-sized enterprises as well as major industry names, underlining our commitment to establish a more open and competitive ICT marketplace at the heart of the UK public sector.

The PSN will also change the way public sector organisations work and interact, making it possible for government to operate in a much more flexible way, regardless of workers' usual department or office.

Work in the 21st century needs to be about what you do, not where you do it and the longer the public sector lags behind, the more this costs the taxpayer and constrains innovation.
Notes to editors
The full list of suppliers on the PSN Connectivity Framework is:
Virgin Media Business Limited
Logicalis UK Limited
British Telecommunications
Cable & Wireless Worldwide
Level 3 (formerly Global Crossing)
Capita Business Services Limited
Updata Infrastructure UK Limited
Fujitsu
MDNX Enterprise Services Limited
eircom UK Limited
KCOM Group
Thales UK Limited
For further information, contact the Cabinet Office press office.
Published 23 March 2012