News story
Fourth anniversary of Syria crisis
Statement from International Development Secretary on the four year anniversary of the conflict in Syria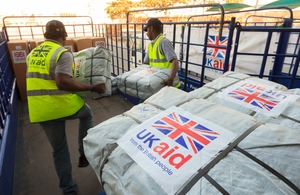 In advance of the fourth anniversary of the start of the Syria conflict on Sunday 15 March, International Development Secretary Justine Greening said:
After four years of fighting in Syria, every day brings new stories of horror and suffering, of lives lost, families torn apart and children robbed of a future. We are at risk of losing an entire generation to the conflict.

The UK has provided lifesaving water, shelter, medical help and other essential aid to more than a million people in Syria and across the region. Humanitarian aid saves lives, but only a political solution can resolve the crisis.

Aid agencies must get the access they need to save lives. This anniversary must focus the attention of the world to find a political solution.
Get the latest news on the UK's humanitarian response to the crisis in Syria
Published 14 March 2015