Press release
Foreign Secretary welcomes UN vote to support Crimea
Foreign Secretary William Hague backs UN resolution to respect Ukrainian territorial integrity.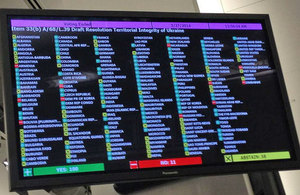 Following a UN General Assembly vote in favour of the resolution to affirm the commitment to Ukraine's territorial integrity, Foreign Secretary William Hague said:
The international community has sent a strong message through the passing of this resolution that Russia cannot simply trample over international law. The result reinforces the fundamental principles upon which the UN was founded: principles of territorial integrity and of the non-use of force. President Putin should take notice of this clear and resounding message and work together with all parties to de-escalate the situation.
Further information
Follow the Foreign Secretary on twitter @WilliamJHague
Follow the Foreign Office on twitter @foreignoffice
Follow the Foreign Office on facebook and Google+
Published 27 March 2014