Foreign Secretary welcomes progress at the UN Human Rights Council
Following the conclusion of the 17th Session of the UN Human Rights Council in Geneva, Foreign Secretary William Hague welcomed the Council's work on a number of key issues including human rights in Libya, Syria and Belarus.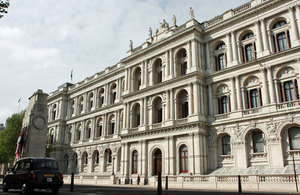 Speaking today, following the conclusion of the 17th Session of the UN Human Rights Council in Geneva, Foreign Secretary William Hague said:
"We have seen some great successes at the Human Rights Council over the past months, and I am delighted with the achievements of the latest session that the UK has worked hard to secure.
"The Council gave its strong endorsement to the work of the Commission of Inquiry into human rights violations in Libya and unanimously decided to extend its mandate. We remain deeply concerned by the continuing violence and brutality of the Qadhafi regime, and it is vital that that the COI should continue its very important work collecting information to ensure that those responsible for the human rights violations face justice. We also note the COI's findings about opposition forces and the NTC's declaration that it will hold anyone found guilty to account.
"The Report of the High Commissioner for Human Rights on the situation in Syria highlighted allegations of appalling abuses, including numerous cases of torture, being experienced by the Syrian people. I reiterate that the actions the Syrian regime are taking against its own people are absolutely reprehensible and indefensible. The violence must stop.
"The Council has today adopted a strong resolution on Belarus, the first UN action on Belarus since 2006. The UK lobbied hard for this resolution, which will ensure that international attention remains focused on the rapidly-deteriorating human rights situation in that country, a situation that must not be allowed to continue in Europe's back yard.
"I also welcome the Council's endorsement of the Guiding Principles on Business and Human Rights and decision to establish an international working group to promote their implementation. I was also pleased to see the Council adopt the first ever resolution at the UN to focus on human rights violations based on sexual orientation or gender identity.
"The UK will continue to work with our international partners on these and other issues, to support the work of the Council and ensure that those who are guilty of human rights abuses are held to account by the international community."
Published 17 June 2011