Press release
Foreign Secretary welcomes Egyptian ceasefire initiative in Gaza and Israel
Foreign Secretary Philip Hammond urges parties in Gaza and Israel to take this opportunity to end hostilities.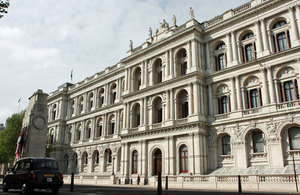 The Foreign Secretary Philip Hammond said:
I welcome Egypt's ceasefire initiative. I pay tribute to the Egyptian government for their efforts and the leadership they have shown in attempting to broker a cessation of hostilities.

I also welcome Israel's acceptance in principle of the terms of the proposed ceasefire agreement, and the Palestinian Authority's endorsement of the Egyptian initiative. I call on Hamas and all militant factions in Gaza to take this opportunity to cease hostilities, ending all rocket fire into Israel, so that the bloodshed on both sides can stop.

A cessation of the violence will allow the opportunity to tackle the underlying causes of instability in the Gaza strip, without which the long-term security of both Israel and Gaza will not be secured.
Further information
Follow the Foreign Office on twitter @foreignoffice
Follow the Foreign Office on facebook and Google+
Published 15 July 2014