Press release
Foreign Secretary visits Saudi Arabia
Foreign Secretary visits Saudi Arabia to discuss a range of issues, including defence and regional security.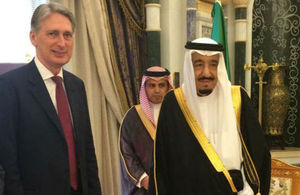 The Foreign Secretary Philip Hammond said:
I am pleased to be here in Riyadh today, for a series of meetings with the Government of Saudi Arabia. The United Kingdom and the Kingdom of Saudi Arabia have a long history of friendship, understanding and cooperation on a range of issues: defence, security, trade and investment and regional issues. Today was an opportunity to reiterate our commitment to the security and stability of the region.

The UK is extremely concerned about the deteriorating security situation in Yemen. We reiterate our continuing support for President Hadi, Yemen's legitimate President, and welcome the convening of a regional conference in Riyadh by the Gulf Cooperation Council. Saudi Arabia's leadership in dealing with this worsening problem is very much valued.

We have also had an opportunity to discuss the ongoing global coalition that is countering ISIL. Britain welcomes Saudi Arabia's military contributions to the campaign, alongside British military assets and expertise. But we are all clear that military efforts alone will not defeat ISIL, we are also working together on stopping the flow of foreign fighters and the financing of these extremists, and most importantly, countering their poisonous narrative.

We also discussed the ongoing efforts to achieve a comprehensive nuclear deal to ensure that Iran does not develop a nuclear weapons capability. Reaching a comprehensive, lasting and verifiable deal will be extremely challenging, but remains in all our interests.
Further information
Published 23 March 2015