Press release
Foreign Secretary visits Auschwitz
On Holocaust Memorial Day Philip Hammond leads UK delegation to pay tribute to the victims and survivors of the Holocaust.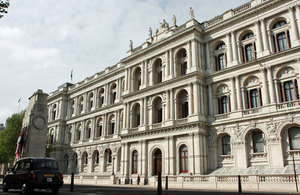 The Foreign Secretary, Philip Hammond, said:
I am humbled to be at Auschwitz-Birkenau today, 70 years since its liberation. Standing in these chilling surroundings and imagining what happened here, I have seen for myself how the unprecedented horror of the Holocaust continues to hold universal meaning. It is also close enough in time that survivors can still bear witness to the horrors that engulfed the Jewish people and to the terrible suffering of the many millions of other victims of the Nazis.

We remember the victims who perished; and I pay tribute to the survivors still with us, many of whom work tirelessly to share their stories and memories with the next generation. We continue to stand up against those who distort or deny the Holocaust and to confront anti-Semitism wherever it is found.

With our international partners, we will continue to support Holocaust education, remembrance and research - as of fundamental importance in themselves, and for prevention of future genocides.
Further information
Follow the Foreign Secretary on twitter @PHammondMP
Follow the Foreign Office on twitter @foreignoffice
Follow the Foreign Office on facebook and Google+
Published 27 January 2015