Foreign Secretary urges Sudanese Government to address situation in Abyei
Foreign Secretary William Hague has urged the Government of Sudan to quickly negotiate a peaceful solution to the situation in Abyei.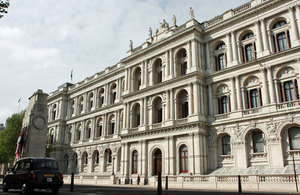 The two Ministers met during the Sudanese Foreign Minister's visit to London.
Speaking after the meeting, the Foreign Secretary said:
"This is a critical time for Sudan and today was an important opportunity to discuss the situation with the Foreign Minister. We agreed on the importance of a durable and peaceful resolution to the status of Abyei and on the need for Sudanese Armed Forces to withdraw from the district.
"I encouraged the Foreign Minister to accept offers of a third-party peacekeeping force in Abyei so that Sudanese forces can withdraw quickly and those who have been displaced can return to their homes. We agreed on the importance of building on the success of the peaceful referendum in January, by working to resolve the outstanding issues under the Comprehensive Peace Agreement."
The Foreign Secretary and Foreign Minister Karti also discussed events in Libya and Egypt, as well as the future relationship between the UK and Sudan after South Sudan's secession on 9 July. The Foreign Secretary told Mr Karti that the UK was committed to seeing Sudan develop into a secure and economically stable country and hoped that the Government of Sudan would work for progress in the run up to South Sudan's secession on 9 July that would enable this.
Published 6 June 2011