Press release
Foreign Secretary to highlight importance of continued European security cooperation
The Foreign Secretary Jeremy Hunt is in Luxembourg to meet with his European counterparts.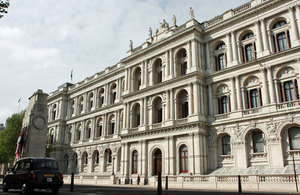 The Foreign Secretary will reiterate to European counterparts today (15 October) that emerging global threats such as migration and cyber-attacks will only be tackled if we maintain close cooperation.
This comes ahead of a key week in which the Prime Minister will be taking her proposal for a deal to the EU at the October European Council.
At the Foreign Affairs Council in Luxembourg, Mr Hunt will argue that the merits of achieving a deal are in our mutual interests, and will reiterate the importance of continued international security cooperation in the face of new and emerging threats on a global scale.
Mr Hunt will tell the UK's partners that issues such as cyber, chemical weapons, terrorism and migration can only be tackled as a united force.
The Foreign Secretary was able to thank eight of his European counterparts yesterday for their support and collaboration in equipping the EU with a new chemical weapons sanctions regime.
The Foreign Secretary said:
This is a crucial week both for the UK and our European partners. The importance of achieving a Brexit deal that respects the autonomy of the EU and the sovereignty of the UK cannot be overstated.

And delivering this is vital for our security too because economic relations sit at the heart of all our partnerships including the vital security alliances we have with our friends in Europe.
Further information
Published 15 October 2018