Press release
Foreign Secretary supports ICRC-led humanitarian efforts in Ukraine
Philip Hammond urges Russia to work with the Red Cross to deliver aid in Ukraine.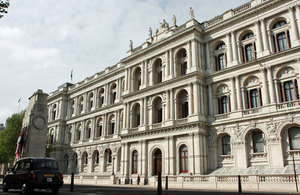 Responding to reports that a convoy of Russian vehicles is headed towards the Ukrainian border to deliver aid, the Foreign Secretary, Philip Hammond, said:
Yesterday, the International Committee of the Red Cross (ICRC) underlined the need for humanitarian assistance for the people in the east of Ukraine. The UK supports its efforts – together with those of other international humanitarian agencies.

The ICRC has been clear that any aid must be delivered with the explicit agreement of the Ukrainian Government and themselves. They have also set out clear conditions for supporting the provision of Russian aid into eastern Ukraine, namely that it must be handed over to the ICRC to distribute, that Russia must state without undue delay the items they intend to supply, and that all parties must respect the neutrality and independence of the ICRC and guarantee the safety and security of ICRC personnel for the duration of its mission.

The Russian authorities have said they will only proceed with the full agreement of the Ukrainian Government. I welcome this commitment and the UK awaits Russian confirmation that they will also abide by these very clear ICRC requests.
Further information
Follow the Foreign Office on twitter @foreignoffice
Follow the Foreign Office on facebook and Google+
Published 12 August 2014
Last updated 13 August 2014
+ show all updates
Added translation
First published.