Press release
Foreign Secretary statement on Syria
Foreign Secretary Boris Johnson statement on the humanitarian situation in Aleppo.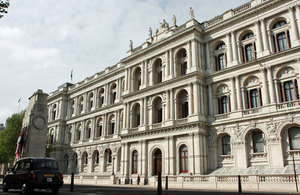 Foreign Secretary Boris Johnson said:
When a tragedy on the scale of the Syria conflict persists for so long, there's a risk that it becomes the new norm. But we must challenge that mindset and not become inured to the desperate suffering of millions of people across Syria just because the conflict there has become so intractable and difficult to solve.
Recently the situation in Aleppo has deteriorated following weeks of siege conditions imposed by the regime, with a significant increase in airstrikes and the horrific targeting of medical facilities. Over two million residents are faced with dangerously low supplies of food, water and medicine. While the siege has been broken, the Asad regime and Russia continue to bombard parts of the city and I am particularly concerned by reports of chlorine gas attacks which if proven, would be utterly abhorrent. We unequivocally condemn the use of chemical weapons by anyone anywhere and will work with the UN and other partners to establish the facts and hold those responsible to account.
The international community risks failing the Syrian people if we do not do more to avert further devastation and tragedy. We must secure sustained humanitarian access and an end to the indiscriminate regime and Russian attacks on civilian areas, including medical centres. Yesterday I spoke to Sergey Lavrov, the Russian foreign minister, and urged him to do this.
We must also continue to make clear to the Asad regime that there is no victory in the brutal torture of its own people. Ultimately, the solution lies in an enduring political settlement based on transition away from the Asad regime. And the UK will continue to make every effort to support this.
Further information
Published 12 August 2016
Last updated 12 August 2016
+ show all updates
Added translation
First published.