Press release
Foreign Secretary statement in support of democracy in Pakistan
UK supports a democratic Pakistan. We urge all to work together through constitutional means to peacefully resolve political differences.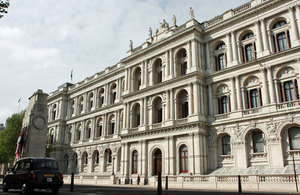 Following ongoing political protests in Islamabad Foreign Secretary Philip Hammond said:
The UK and Pakistan have deep and extensive ties. We strongly support a democratic Pakistan and the use of democratic institutions to resolve political disputes. I hope that all parties in Pakistan can work together under the Constitution to peacefully resolve current political differences.
Further information
Follow the Foreign Office on twitter @foreignoffice
Follow the Foreign Office on facebook and Google+
Published 19 August 2014