Press release
Foreign Secretary offers support for Pakistan's democratic future
Following elections in Pakistan, Foreign Secretary William Hague reiterates the UK's support for their democratic future.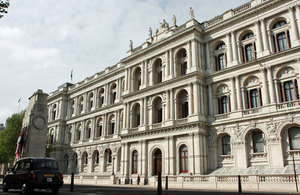 Foreign Secretary William Hague said:
Some 50 million people in Pakistan went to the ballot box on Saturday. They made a strong statement about the future they want for their country, based on accountable, democratic government. They clearly rejected terrorist violence and intimidation.

These elections represent an important step for Pakistan's democracy, with strong voter rolls and the highest-ever number of women and new voters. To protect that credibility I hope that all allegations of malpractice will be thoroughly investigated. These elections were only possible due to the hard work of the Election Commission, the caretaker government, polling station officials, security personnel, election observers, but most of all of those who voted.

The people of Pakistan can be certain of the UK's support for their democratic future. The UK has been a long-term friend of Pakistan and these elections will strengthen our commitment to work together, based on mutual trust, mutual respect and mutual benefit. These values have underpinned our relationship in the past and I will do my upmost to ensure they continue to do so for the future. We look forward to working with the new federal and provincial governments as they strive to meet the mandate the people have given them.
Further information
Visit the UK in Pakistan website
Follow the Foreign Office on twitter @foreignoffice for all our latest news
Follow the Foreign Secretary on twitter @WilliamJHague
Published 13 May 2013