Press release
Foreign Secretary meets King Abdullah of Jordan
Foreign Secretary and King Abdullah emphasise need to end Syrian violence and protect neighbouring countries from consequences of the crisis.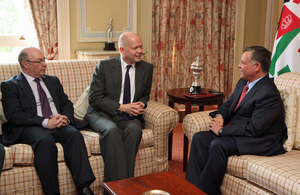 Speaking about his meeting yesterday with King Abdullah of Jordan as part of the King's visit to the UK, Foreign Secretary William Hague said:
I warmly value the close bilateral relationship between the UK and Jordan. King Abdullah and I fully agree on the need to bring the appalling violence in Syria to an end, and to protect Jordan and Syria's other neighbours from the consequences of the crisis. I welcomed Jordan's continued efforts to assist Syrian refugees through maintaining open borders. G8 leaders this week recognised the immense burden that the conflict and the refugee influx is placing on the people and authorities of Jordan and Lebanon in particular and the need for the international community to support both countries in carrying that burden.

As announced earlier this week, the UK will be providing a further £175m of aid towards addressing this humanitarian crisis. I am pleased that the Prime Minister was able to announce yesterday that £50m of this will be allocated to Jordan to provide long-term humanitarian support to both the refugees and those Jordanian communities hosting refugees. This long term funding will also help aid agencies start planning a more strategic response to the protracted crisis and the humanitarian effort in Jordan.

King Abdullah and I also discussed the critical importance of achieving a two-state solution to the Israeli-Palestinian conflict, which is in the interests of the parties, the region and the international community. We welcomed the concerted efforts of Secretary of State Kerry to revitalise the Middle East Peace Process. We agreed that it was vital that both Israeli and Palestinian leaders demonstrated courage and leadership in exploiting the valuable opportunity offered by the current US efforts. We also agreed that, if this chance were missed, the long-term consequences for both Israelis and Palestinians would be disastrous.
Further information
Visit the G8 2013 website
Visit the UK in Jordan website pages
Follow the Foreign Office on twitter @foreignoffice
Follow the Foreign Office on facebook and Google+
Subscribe to the announcements feed or email alerts to get our latest news and announcements.
Published 20 June 2013