Press release
Foreign Secretary meets Israeli Foreign Minister
Foreign Secretary discusses a range of issues, including the Middle East Peace Process, with Israeli Foreign Minister.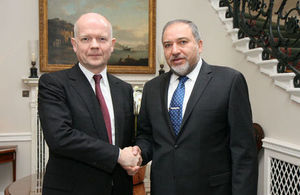 Foreign Secretary William Hague and Israeli Minister of Foreign Affairs Avigdor Lieberman met today to discuss a wide range of bilateral and international issues.
After the meeting they said:
We had an open and productive meeting discussing a wide range of issues.

We were pleased to note that bilateral ties between Israel and the UK are stronger than ever, including in education, science and technology. We discussed the importance of enhancing academic and scientific cooperation between leading institutions in both countries, and building on our close economic ties. Two-way trade and services now stands at over 5.1 billion pounds.

We paid tribute to US efforts on the Middle East Peace Process led by US Secretary of State John Kerry, and agreed that the current negotiations provide a unique opportunity to end the conflict once and for all. We also discussed the unprecedented package of security, political and economic support that the European Union will provide to the parties in the event of a final status agreement.

We discussed the changing regional environment in the Middle East and the security challenges this presented to Israel. We reiterated our common goal of preventing a nuclear-armed Iran, and the importance of continuing our coordination on this matter. We agreed that the sanctions regime should remain robust until Iran agrees to a comprehensive and final settlement addressing all international concerns about its nuclear programme.
Further information
Follow the Foreign Secretary on twitter @WilliamJHague
Follow the Foreign Office on twitter @foreignoffice
Follow the Foreign Office on facebook and Google+
Published 7 January 2014