Press release
Foreign Secretary expresses concern over further delays in Maldives Presidential elections
Foreign Secretary deeply dismayed by further delays in the Maldives Presidential elections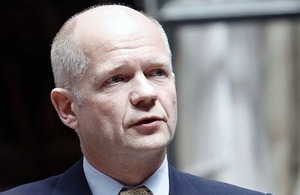 Foreign Secretary William Hague said:
I am deeply dismayed by further delays in the Maldives Presidential elections. It is vital that the democratic process is allowed to proceed and that a new President is inaugurated by 11 November in line with the Maldives Constitution. I strongly urge that the Election Commission be permitted to carry out the presidential election at the earliest possible date so that constitutional requirements may be met. With the eyes of the world on the Maldives, I call on all parties to respect democratic values, and to allow transparent, free and fair elections to proceed without further delay.

Elections which reflect the will of the people can help to build a more stable Maldives for the future. It is clear from the extremely high turnout seen on 7 September that the Maldives people are fully engaged in the process, and their voices should be heard through the ballot box. Continuing challenges to prevent elections taking place will be seen as nothing less than an attempt to frustrate the democratic process. This would undermine democracy, create greater uncertainty, further instability and damage the Maldives economy and international reputation.

Together with fellow Commonwealth member states, the EU and the wider international community, Britain continues to monitor developments in the Maldives very closely. We remain committed to supporting the Maldivian people to work towards strengthening democratic processes and values.
Further information
Follow the Foreign Secretary on twitter @WilliamJHague
Follow the Foreign Office on twitter @foreignoffice
Follow the Foreign Office on facebook and Google+
Published 19 October 2013