Press release
Foreign Secretary encouraged by Iran nuclear agreement
Foreign Secretary welcomes deal as an important moment in international relations with Iran and in efforts to prevent nuclear proliferation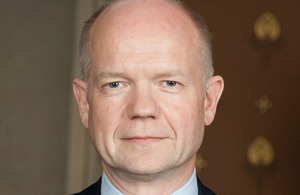 Speaking to Sky News earlier this morning from Geneva, the Foreign Secretary said:
I think this is an important moment; an encouraging moment, in our relations with Iran, and in our efforts to prevent nuclear proliferation in the world. This is the first time there has been an international agreement with Iran about its nuclear programme. It will mean that, as a first step agreement, that Iran's programme won't be able to go forward over the next six months – over the six months of this agreement – and in some respects will be rolled back. And that, we hope, will give us the opportunity to negotiate a comprehensive and final settlement of these issues. So it is certainly an important moment, and it's been well worth bringing this about.
The Foreign Secretary also spoke about the implications of today's agreement, including on sanctions:
There will be some relief from sanctions for Iran; proportionate and limited relief from sanctions. But that will involve the unfreezing of some assets – in particular by the United States; the lifting of the suspension of some sanctions on items like petrochemicals and on gold and precious metals. So this is some relief from sanctions. But the great bulk of sanctions will remain in place until there is a comprehensive and final agreement that gives the world the necessary assurances that, for the future, Iran's nuclear programme is exclusively for peaceful purposes.

What happens in this six months is that Iran has announced it will take certain actions; it will stop enriching uranium above a level of 5%; it will eliminate the stockpile that it has built up of Uranium enriched to that level; it will stop work on the heavy-water reactor at Arak. So these key elements of Iran's nuclear programme, won't move forward over this period, and in some respects, as I say, will be rolled back – the elimination of the stockpile of 20% enriched uranium is the best example of that. So that happens in this six month period. That sanctions relief is available to them at the same time, and during that period we will set about the negotiation on a very comprehensive settlement of these issues.

Well, there's the challenge now of making sure this agreement is fully implemented. The United Kingdom and our partners will implement this in good faith; we look to Iran to implement it in good faith. And then there is the whole issue of a comprehensive and final settlement, one in which, as I say, the world can be sure that the development of a nuclear programme in Iran is for peaceful nuclear energy in the future, and in which all sanctions are lifted.
On the possibility of a more comprehensive agreement in future, the Foreign Secretary said:
Now, clearly that is going to involve agreement on an even bigger scale; even more work than this. This is a very important change that it is possible to agree with Iran about these matters, that the political will from all sides has been there, and that is something that many people would have doubted only a few months ago.
Published 24 November 2013