Press release
Foreign Secretary discusses Syria with US Secretary of State John Kerry
The UK wants a diplomatic process in Geneva that succeeds in reaching a negotiated end to the conflict in Syria.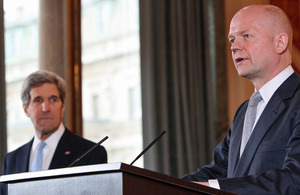 Speaking today the Foreign Secretary, William Hague, said:
Thank you very much, and good afternoon, ladies and gentlemen. It is a great pleasure to be back here in Washington DC for talks with my great friend and colleague who I've hugely enjoyed working with already over the last four months, Secretary Kerry.
The United States is the United Kingdom's greatest ally in world affairs, and the range of issues we have discussed reflects that.
I want to pay tribute to the energy, resolve and commitment Secretary Kerry has brought to his role as Secretary of State.
I particularly welcome his personal leadership on the Middle East Peace Process. He has put an enormous amount of his time and energy into creating the foundations for a return to negotiations.
No single act would do more to unlock a more peaceful and stable Middle East than a peaceful resolution of the Israeli-Palestinian conflict.
A two-state solution is the only way to end this conflict and achieve peace and security for both sides. But the window for a viable settlement is closing fast, and the regional environment is growing more difficult and more dangerous, as you know, all the time.
The United States can count on the full and active support of the United Kingdom in getting both sides to the negotiating table; bilaterally, through our relationships with Israelis and Palestinians, and using our role in the European Union as well.
We also discussed the meeting of the G8 in Northern Ireland, where we hope to make progress on the priorities of trade, tax and transparency set by Prime Minister David Cameron. I also reiterated our commitment to the Transatlantic Trade and Investment Partnership between the United States and EU: this is the biggest opportunity in a generation to power new jobs and growth in Europe and America and to provide an immense boost to the world economy. The United Kingdom is fully behind it.
We've also discussed our work together to bring peace and stability to Afghanistan. We've identified new areas where the State Department and Foreign Office can work together on climate change issues.
The British Government greatly looks forward to welcoming President Obama to the G8. We see this as an important opportunity to discuss many matters in world affairs, but also an important opportunity to discuss with world leaders including President Putin the most urgent crisis anywhere in the world today: the terrible and deepening conflict in Syria.
Syria has been a focus, of course, of our talks today. We are both deeply concerned by what is happening to innocent people there. The regime appears to be preparing new assaults, endangering the lives and safety of millions more Syrians who are already in desperate need.
The scale of the regime's repression and the human suffering it has caused beggars belief. The campaign of murder and tyranny they have waged for more than 800 days now is not only a moral outrage – it is a grave threat to wider region and a danger to our own national security. This includes the risks of growing radicalisation, the involvement of Hezbollah and Iranian proxies, and credible reports of the use of chemical weapons.
So we agreed today that we cannot turn away from Syria and its people. The United Kingdom believes that the situation demands a strong, coordinated and determined approach by the UK, The US and our allies in Europe and the region.
I want pay tribute to the Governments and people of Turkey, Jordan and Lebanon for their extraordinary generosity in hosting the vast refugee population, and for the burden they are shouldering for the whole world because of their proximity to this appalling conflict. And we will all have to do more in the coming weeks to assist with the immense humanitarian effort that is necessary.
We agreed today that our priority remains to see a diplomatic process in Geneva that succeeds in reaching a negotiated end to the conflict.
But we have to do be prepared to do more to save lives, to pressure the Assad regime to negotiate seriously, and to prevent the growth of extremism and terrorism if diplomatic efforts are going to succeed.
So we have discussed thoroughly how to help the regime and opposition come to the negotiating table as well as to protect civilian life. We should never forget that this conflict began when the Assad regime turned its tanks, helicopter gunships and heavy weapons against peaceful protestors.
We shouldn't forget that 1.6 million people have become refugees and more 4 million are internally displaced. These innocent victims of war and repression, and they have been at the forefront of our minds in our discussions here in Washington today. Thank you very much.
Further information
Follow the Foreign Secretary on facebook and on twitter: @WilliamJHague.
Follow the Foreign Office on twitter, facebook & google+.
Subscribe to the announcements feed or email alerts to get our latest news and announcements.
Published 12 June 2013