Foreign Secretary condemns Crimea 'referendum' one year on
Foreign Secretary denounces Russia's illegal annexation of Crimea.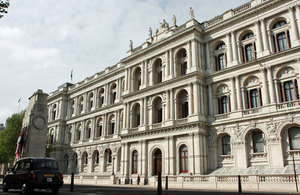 A year after President Putin signed the decree confirming the illegal annexation of Crimea, the Foreign Secretary Philip Hammond has condemned the flagrant breach of Ukrainian and international law. Speaking today Philip Hammond said:
The illegal annexation of Crimea by Russia one year ago was a blatant breach of international law. It showed total disregard for Ukraine's right to sovereignty and territorial integrity, and I condemn it in the strongest terms.

It is completely unacceptable for Russia to use force to change borders. We do not recognise last year's sham referendum which President Putin has admitted was planned to provide a fig leaf for his land grab. This behaviour threatens international security, and has grave implications for the legal order that protects the integrity and sovereignty of all states.

Our message to Russia is consistent and clear: the annexation of Crimea was illegal and illegitimate in March 2014, and remains illegal and illegitimate in March 2015. Russia must return Crimea to Ukraine.
The annexation followed a sham 'referendum', planned in fewer than twenty days without a proper campaign or debate and under the supervision of armed Russian troops. Opposition media was shut off before the vote, there were no Organisation for Security and Co-operation in Europe (OSCE) monitors and the referendum was declared illegal and illegitimate by the OSCE and G7 nations shortly after it took place. President Putin has now admitted he planned the vote in order to seize Crimea.
Since the illegal annexation, political freedom has reduced, and those who have dared to speak out have been threatened and subjected to violence. Human rights abuses in Crimea are particularly affecting ethnic minorities, with over 100 raids on Crimean Tatar homes reported since the annexation.
Russia's intervention in Ukraine and the annexation of Crimea violates a number of Russia's international commitments, including under the UN Charter, the OSCE Helsinki Final Act and the 1997 Partition Treaty on the Status and Conditions of the Black Sea Fleet with Ukraine.
Further information
Published 22 March 2015