Press release
Foreign Secretary condemns airstrikes on Syrian hospitals
Philip Hammond calls on all parties to make progress towards cessation of hostilities.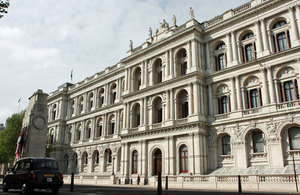 The Foreign Secretary said:
The reported airstrikes conducted on hospitals in northern Syria in recent days could amount to war crimes and must be investigated. I am appalled that the Asad regime and its Russian supporters are still bombing innocent civilians despite the agreement last Thursday to a cessation of hostilities and even as the UN Envoy for Syria is in Damascus trying to relieve the killing and suffering. Russia needs to explain itself, and show through its actions that it is committed to ending the conflict, rather than fuelling it.

I call on all parties to commit to making rapid progress towards a cessation of hostilities, humanitarian access and negotiations towards a political transition, as agreed at last week's meeting of the International Syria Support Group in Munich. There must be a major change in behaviour by the Syrian regime and its supporters if the agreements reached in Munich are to become a reality. Russia's tactics are making a political settlement – and therefore the defeat of Daesh – even harder to achieve.
Further information
Published 16 February 2016