Press release
Foreign Secretary calls for urgent progress on Syrian humanitarian crisis
As talks reach end of first round, William Hague says plight of the Syrian people must be urgent priority.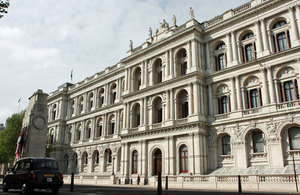 Speaking today, the Foreign Secretary said:
There is only one way of ending the Syrian conflict and that is through a political settlement. The fact that these talks have taken place raises some hope, for the Syrian people, that a negotiated end to the conflict can be found. I thank UN and Arab League Special Envoy Brahimi for his part in stewarding the process.

It is vital that the talks reconvene as planned on 10th February, with both sides ready to move towards a political transition. The UK also strongly believes that Syrian women's groups must be included fully in the next round of Geneva negotiations, and we call on the UN to establish a mechanism to ensure this happens.

In the meantime the plight of the people of Homs and other besieged areas must be the urgent priority. I condemn the fact that the Syrian regime did not take any of the steps in its power to address humanitarian suffering, or stop the indiscriminate bombardment of Syria's towns and cities.

After more than 600 days of siege the situation in Homs is desperate. UN convoys are waiting outside Homs, and the Syrian regime should allow them to enter immediately, without any preconditions.

The blocking of humanitarian aid and deliberate starvation of a civilian population is grotesque. The Syrian regime must know it will be held accountable for the fate of the people of Homs, Yarmouk and other besieged areas. The United Kingdom also believes that there is a compelling case for bringing the humanitarian situation back under discussion in the Security Council. We will discuss urgently with our partners what steps can be taken to ensure that aid reaches all those in Syria who need it.
Further information
Follow the Foreign Secretary on twitter @WilliamJHague
Follow the Foreign Office on twitter @foreignoffice
Follow the Foreign Office on facebook and Google+
Published 31 January 2014