Press release
Foreign Secretary attends EU-Africa Summit
EU and Africa agree to work together on peace and security, trade and investment and development.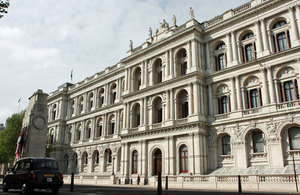 The Foreign Secretary and Minister for Africa represented the UK at the EU-Africa Summit in Brussels on 2-3 April. They participated in working sessions on the Summit themes "Investing in People, Prosperity and Peace" and met with a number of African Heads of State and EU colleagues.
Following the EU-Africa Summit the Foreign Secretary William Hague said;
I was delighted to attend this EU-Africa summit. Every three years the EU meets with African partners to talk about issues that matter to our continents, and to exchange ideas and concerns. This year we addressed the critical areas of people, prosperity and peace which matter so much to the citizens of the EU and Africa.

I also met AU Chairperson Nkosazana Dlamimi-Zuma, President Mahama of Ghana, President Jonathan of Nigeria, President Mohamoud of Somalia, Prime Minister Haillemariam of Ethiopia and Foreign Minister Fahmy of Egypt.

The Summit provided an excellent opportunity to raise my initiative for Preventing Sexual Violence in Conflict. I am very pleased that so many African countries have signed up to the Declaration on putting an end to these horrific crimes - the leadership of African governments will be crucial in making this aspiration a reality. I discussed in detail with my African and EU colleagues the preparations for the Global Summit on Preventing Sexual Violence, which I will host with Angelina Jolie in London in June.
During the Summit, the Foreign Secretary attended a special mini-summit, chaired by President Hollande, on the dire situation in the Central African Republic. He discussed with the head of Central African Republic 's interim government, Catherine Samba-Panza, how to de-escalate the crisis and provide much needed support. The Foreign Secretary reaffirmed the UK's support to the Central African Republic with the latest allocation of £6million in DfID aid, bringing the total the UK Government has committed since July 2013 to £23million.
Mark Simmonds, Minister for Africa, spoke at the Summit during the 'People' session. The Minister talked about improving connections between Europe and Africa, and the importance of a continued close partnership on issues such as prosperity and maintaining peace and security. These are all issues the UK believes should be included in the post-2015 development goals framework.
Mark Simmonds also hosted the Intergovernmental Authority on Development and discussed the security situations in South Sudan and Somalia and pledged continued UK support.
In the final Summit declaration, the EU and African States agreed to co-operate in areas such as peace and security, organised crime, the protection of women and children (including sexual violence), job creation, climate change, investment, transport, trade facilitation, human rights, education and migration. The Summit also adopted an action plan for 2014-2017.
Further information
Follow the Foreign Secretary on twitter @WilliamJHague
Follow the Foreign Office on twitter @foreignoffice
Follow the Foreign Office on facebook and Google+
Published 7 April 2014