Press release
Foreign Secretary arrives in Vienna for Iran nuclear talks
Foreign Secretary in Vienna for Iran nuclear talks. Complex issues, still substantial gaps. Greater flexibility needed if we are to succeed.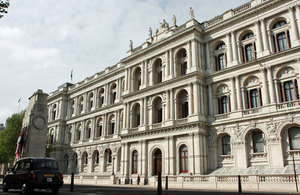 The Foreign Secretary Philip Hammond said:
I am here with my French and American colleagues to further discuss the Iranian talks. We will meet with Foreign Minister Zarif later on today. We are all determined to make some progress but these are very difficult, technically complex matters. We have got a long way to go if we are going to get to a deal before the deadline on Monday.

I am not going to go into the detail but there has been positive discussions. There is a very cordial atmosphere. It is clear that both sides want to try to get a deal done but none of us want to do a bad deal and we are very clear that we have to get more flexibility from the Iranians. In return, we are prepared to show some flexibility on our side. But time is short. We are up against a deadline here and I think we are all working very hard to get the best possible deal on the table.

There is clearly an interest on the Iranian side to get a deal done. The prize for Iran is huge. Access to very large amounts of frozen assets, the ability to trade freely with the world again and the ability to reset relationships with the international community. So there is a huge prize on the table for Iran. I think we all want to get a deal done but we are also all aware of the very complex issues that are at stake here.

We have a very short amount of time. What we are all focussed on now is trying to get the key principles of a deal agreed over the next 72 hours so that we can meet that important deadline.
Further information
Published 21 November 2014