Press release
Foreign Office's settlement at the Spending Review 2015
The Chancellor has published the results of the spending review, including details of the FCO's budget over the course of this parliament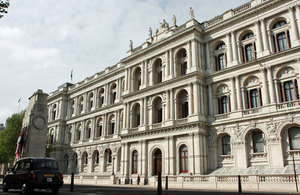 The Chancellor has published the results of the spending review, including details of the Foreign and Commonwealth Office's (FCO) budget over the course of this parliament.
The Spending Review and Autumn Statement delivers on the government's priority to provide security to working people at every stage of their lives. It sets out a 4 year plan to fix the public finances, return the country to surplus and run a healthy economy that starts to pay down the debt. By ensuring Britain's long term economic security, the government is able to spend £4 trillion on its priorities over the next 4 years.
For the Foreign and Commonwealth Office this means:
protecting the FCO's budget in real terms to promote British interests globally and maintain the network of diplomatic posts which host 26 different government departments and agencies around the world, and to coordinate the UK's presidency of the EU in 2017;
funding to open new embassy buildings in Abuja and Budapest and further investment across the FCO estate to keep people safe while they are working for the UK abroad;
funding for the British Council will also be protected in real terms, and in addition, it will be able to bid competitively for up to £700 million from a cross-government fund to improve links with emerging economies, help tackle extremism globally and support good governance,
efficiency savings of £53 million by 2019-20
Foreign and Commonwealth Office
2015 to 2016 baseline (£billion)
2016 to 2017 plans (£billion)
2017 to 2018 plans (£billion)
2018 to 2019 plans (£billion)
2019 to 2020 plans (£billion)
2020 to 2021 plans (2) (£billion)
Resource DEL (1)
1.0
1.0
1.0
1.0
1.0
*
Capital DEL
0.1
0.1
0.1
0.1
0.1
0.1
Total DEL
1.1
1.1
1.1
1.1
1.1
*
(1) In this table, resource DEL excludes depreciation
(2) 2020 to 2021 resource DEL departmental budgets have only been set for some departments. For the rest, these budgets will be set in full at the next spending review.
Security
The FCO will spend up to £24 million over the next 4 years to increase the presence of its counter terrorism and extremism experts overseas.
The Conflict, Stability and Security Fund (CSSF), through which the FCO funds much of its conflict prevention work, will grow by 19% in real terms by 2019-20. This will strengthen the UK's ability to support stabilisation in Syria, Ukraine, Somalia and Pakistan and increase the UK's response to serious transnational threats including extremism, serious and organised crime and uncontrolled migration.
Long term investment
The government will invest £60 million a year to deliver the renewed GREAT campaign. This funding will ensure over 140 overseas posts will continue to promote the UK as a world-class destination for trade, investment, education and tourism.
The FCO will maintain the global reach of the UK's diplomatic network, which consists of more than 260 posts and missions in over 160 countries and territories across the world.
There will also be funding for improvements in Mandarin, Russian and Arabic language skills, building country and regional expertise, and investment to maximise the benefit of open source information.
The GREAT programme will increase from £46.5m to £60m a year, generating returns to the UK of £1.6bn a year. For instance £1bn each year will be derived from increased exports for UK companies and foreign direct investment attracted to the UK. This will be achieved by increasing investment in key target markets such as China, the US, India, Brazil, Germany and France, and in selected new high-growth markets in South East Asia, Sub-Saharan Africa and South America.
Efficiency and Reform
Over the Parliament the FCO will work with other government departments to find further savings in the way government works overseas, making reductions in the travel budget across the FCO and controlling staff costs both overseas and in the UK.
Foreign Secretary, Philip Hammond, said:
The Spending Review settlement will maintain our world class Diplomatic Service and global presence to protect our national security, promote our prosperity and project the UK's values. Spending on the Government's international priorities will increase, with a larger Conflict, Stability and Security Fund (CSSF), a new Prosperity Fund and more funding for the British Council to increase our soft power projection.

Like all departments, the Foreign & Commonwealth Office has to find efficiencies to help reduce the deficit, playing its part in bringing the public finances back into balance. But the announcement today protects our ability to use our diplomacy to continue to play a major role on the world stage.
Further information
Published 25 November 2015